Welcome To The B2B Marketing Renaissance
A long time ago, Peter Drucker, a man whom Businessweek once called "the father of business management," wrote: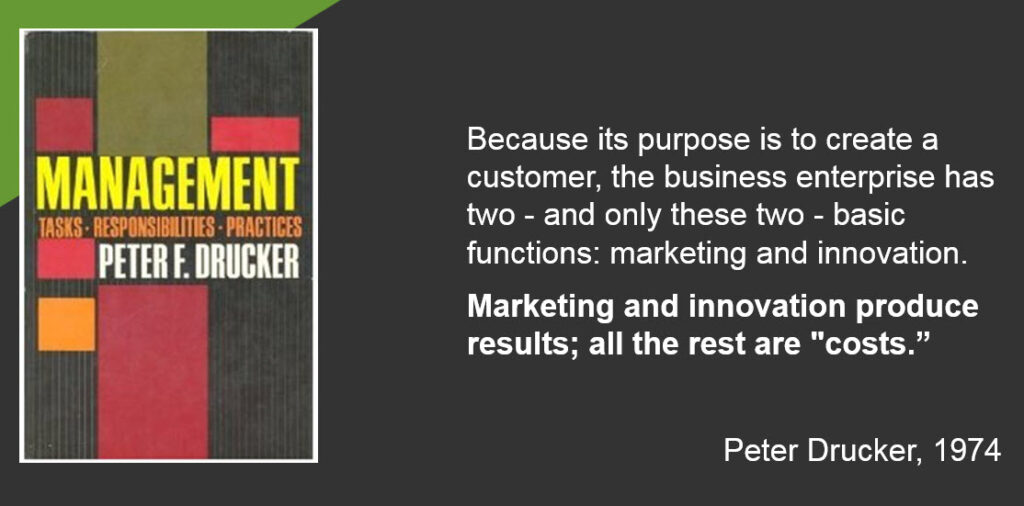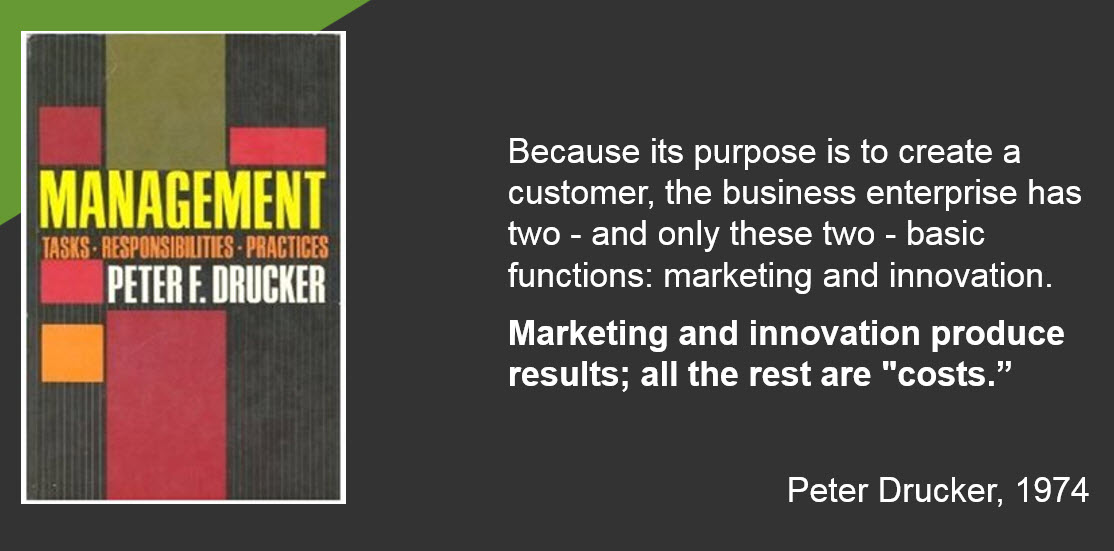 This was written a long time ago — a few years before I embarked on my long career as a B2B marketer. I can attest that for most of that long career, I didn't feel like the most important part of my company — and I know that's the same for many of my compatriot marketers. Sales, engineering, or product was the corporate hero and power base; marketing was a support function, a cost center. It got so bad that David Packard once famously opined that "Marketing is too important to be left to the marketing department." Well, I think Mr. Drucker was right about marketing's potential, and Mr. Packard was right about marketing's purpose, function, and role.
For B2B marketers, it's all about to change. We are entering a new age — a new era. Welcome to the B2B marketing renaissance. We might not be coming out of the dark ages, but we are certainly entering an age of power and enlightenment.
The primary reason for this is a dramatic change in our customers. As few as 10 years ago, vendors held the power of commerce by controlling information. But the business consumer, digitally savvy and self-directed, is in control:
92% of B2B purchases start with search.
68% of B2B buyers prefer to research online on their own, up from 53% in 2015.
60% of B2B buyers prefer not to interact with a sales rep as the primary source of information.
75% of B2B buyers use social networks to learn about different vendors.
62% of B2B buyers say they can now develop selection criteria or finalize a vendor list — based solely on digital content.
B2B Marketing Transformation Is Necessary
Companies that have implemented a managed lead-to-revenue marketing (L2RM) process are demonstrating results: about 30% better performance in marketing contribution to pipeline and revenue and 50% higher revenue growth. But savvy marketing leaders know that they need to go further. They know that they need to re-engineer their L2RM processes to transform marketing from a top-notch supplier of leads for the load-bearing sales channel to the architect of customer engagement throughout the customer life cycle. They know that they need to operate across their sales and marketing silos, going beyond portfolio-centric campaigns to connect with buyers via content that engages throughout the entire life cycle.
The question is not when or why, but how. This is what the CMO of a global enterprise told me late last year:
At my midyear marketing summit, when I was pontificating on our transformation to customer obsession, I looked out at the sea of nodding heads and spotted my direct reports each mentally stepping up to the challenge of getting customer-obsessed in their product, industry, channel, and geographic silos. And I realized the problem was not vision but strategy.
When faced with a difficult transformational challenge, it's useful to deconstruct that challenge into a number of smaller, more tractable changes. The Renaissance B2B marketer must embrace and master a portfolio of philosophical pivots and shifts: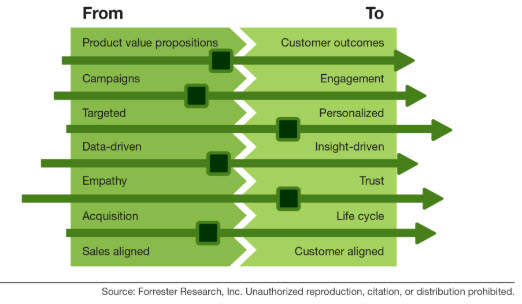 Your product and its awesome value proposition to your customer's desired outcomes (pains, needs, or aspirations). Learn to develop and present your messaging by key decision maker and outcome.
Your campaigns (outbound, not aligned to the buyer journey) to journey-aware contextual engagement. B2B marketers must build the engagement strategy to lead buyers through a journey — not push leads through a funnel.
Targeted to personalized. Real buyers proceed along their journeys in unique and individual ways. B2B buyers expect experiences that are frictionless, anticipatory, and immersive.
Data-driven to insights-driven. It's time we started connecting the dots.
Empathy to trust. Our research has discovered that people tend to assess a company's trustworthiness on the basis of three things: integrity, competence, and transparency. As is often noted, trust is earned in drips and lost in buckets.
Acquisition of new accounts to life cycle. When marketing becomes the steward of the customer relationship across the life cycle, it improves customer value realization, optimizes customer lifetime value, and maximizes customer loyalty and advocacy.
Sales-aligned to customer-aligned. It's time to quit measuring B2B marketing on the volume of MQLs and SQLs. Grab your compatriot sales leader and start talking about how sales and marketing can develop an engagement plan calibrated to the customer.
Prepare For Disruption — It's The Flip Side Of Transformation
B2B marketing transformation is a strategic initiative that will first disrupt and then transform your marketing organization. Set the stage for a strategically phased approach:
Create a vivid picture of your vision. Inspire the team by articulating a simple vision for the new customer-centric approach that captures the team's imagination and outlines exactly what success will look like when you get there. Your vision must focus on how a new approach to B2B marketing will help you win, serve, and retain customers. Outline what your team needs to adapt attitudes and beliefs and get enthusiastic acceptance for a new way of working.
Prepare for pushback. B2B marketing leaders seem to have any number of perceived masters: product management, field marketing, line-of-business heads, sales, geography sales execs, and so on. You can't serve that many masters well. When you decide to serve one master — the customer — really well, you're going to upset some internal stakeholders. Don't be afraid to face contention to maintain your focus on the customer. Explain all of your decisions in terms of better engaging the customer to drive revenue and lifetime value — it's an unassailable position.
Assemble a cross-functional review board. As the B2B marketing renaissance evolves, the biggest organizational adjustments will happen between sales and marketing. But don't underestimate the impact of this change on other organizations. Your marketing service procurement model will change. You will create demands on your CIO's team and consume capital that's earmarked elsewhere. Sit down with your counterparts in finance, the technology organization, services, and development at least quarterly to share both the long-term vision and the key quarterly progress indicators toward your goals.
Build momentum with steppingstones that pave the path toward the vision. Marketers bring about change by taking small steps and building on their success. Because the complexity of the B2B marketing transformation has become noticeable, however, I've adjusted my previous advice of adopting a crawl, walk, and run approach and now include slither and sprint at the beginning and end, respectively. With the pressure to deliver more high-quality leads, falling into the trap of moving too fast is easy. To maximize momentum from the start, the first step should produce the highest chance of success — such as a time-bound event or a well-targeted customer segment.
Categories