Marketing & Strategy
The Customer in 2020
Read our inaugural predictions focused exclusively on customers to understand how evolving consumer needs and expectations will shape their approach to brands and tech in 2020.
Read James McQuivey and Anjali Lai's blog post: Anxious, Lost Consumers Are Hungry To Connect
Agencies
In 2020, agencies will either reassemble their process, workforce, and capability to amplify audiences, activate campaigns, and build experiences with results or find themselves falling further into irrelevance.
Read Jay Pattisall's blog post: Agencies Will Upgrade Or Fade Away
B2B Commerce & Marketplaces
In 2020, headless models enable innovation across the value chain while manufacturers get back to basics.
B2B Marketing & Sales
2020 will be a pivotal year as buyers' demand for a compelling experience increases and B2B marketers strive to own the moment.
B2C Marketing
In 2020, we predict that marketers will build on efforts to engage with existing customers while navigating through murky economic periods by shifting marketing budgets and managing marketing costs.
Banking
Competition in banking will intensify with better deposits and new innovative services and pricing models.
Read Peter Wannemacher's blog post: Old Rivalries And New Entrants Will Preoccupy Bank Execs
CMO
Learn how CMOs must establish a span of control in the name of customer value before the purpose of the CMO and the title itself are dissolved.
Read Keith Johnston's blog post: CMOs Must Extend Their Span Of Control In The Name Of Customer Value
Customer Experience
In 2020, the race to monetize CX will lead to triumph for some firms and disaster for others.
Customer Insights
2020 will see changes in technology choices, insights sources, and approaches to deriving insights, but only some will succeed.
Read Gene Leganza's blog post: Approaches To Customer Insights Evolve
Employee Experience
An emphasis on corporate values and heightened employee expectations for living those values will pressure firms to get serious about their employee experience (EX) commitments in 2020.
Read Samuel Stern's blog post: Companies Will Be Bolder, More Controversial With Their Employee Experiences
Healthcare
For the healthcare industry, 2020 will bring legislative turmoil as the Affordable Care Act (ACA) returns to the US Supreme Court and election-year rhetoric thrusts Medicare for All and healthcare job growth onto center stage.
Read Jeff Becker's blog post: Medicare, Price Transparency, And Virtual Care Take Center Stage In Healthcare
Insurance
In 2020, insurers will aim to have a stronger individual and social impact.
Read Oliwia Berdak's blog post: Insurers Will Seek To Engage Customers With Their Impact Agenda
Media
Consolidation, streaming wars, and new media offerings will grab headlines next year.
Privacy & Data Ethics
2020 is set to upend two major areas of the marketing ecosystem: third-party data and adtech. The two areas aren't just in the crosshairs of regulators — they also face existential risks from investors and mature tech firms.
Read Fatemeh Khatibloo's blog post: Privacy And Data Ethics Bring Marketing To The Boardroom
Retail
Social responsibility, continued expansion into new services, and data mastery are just some of the areas that we predict retailers and brands will tackle to position themselves for long-term growth and profitability.
Read Fiona Swerdlow's blog post: Retailers Seek An Edge Amid Uncertainty
Wealth Management
In 2020, as fears over the end of the equity bull market and climate-change-related risks reach a peak, wealth management executives will take action to protect their revenues, looking to expand into adjacent industries, boosting climate resilience of their assets, and investing for differentiation and scale.
Read Oliwia Berdak's blog post: Wealth And Investment Firms Will Copy Fintech Strategies
Technology Management
AI
2020 will be the year when companies become laser-focused on AI value, accelerate adoption, learn through mistakes, overcome data issues, and embrace new talent realities.
Read Srividya Shridharan's blog post: AI Aspirations Will Both Sizzle And Simmer
Automation
In 2020, Forrester predicts a sea change in automation organizational teams and the growth of an unexpected automation paradox.
CIO
In 2020, the continued uncertainty will frame CIOs' transformation agendas, but with an important twist.
Read Brian Hopkins' blog post: Uncertainty Equals Opportunity For The CIO
Cloud
In 2020, cloud application, platform, infrastructure, and management vendors will battle fiercely for attention and dominance in a global war to win the loyalty of infrastructure and operations (I&O) pros and developers.
Customer Service
2020 will mark the beginning of the concrete alterations that AI beyond chatbots will make to customer service and contact center groups.
Read Ian Jacobs' blog post: AI Shakes Up Customer Service Workforce And Operations
Cybersecurity
Key themes we see developing in 2020 include the ever-expanding collection of data, ransomware continuing to grow, and more sophisticated attacks using AI and ML.
DevOps
In the next 12 months, DevOps adoption will change, teams will implement different metrics, testing will pivot to include previously radical methods, and technology with help developers learn new skills.
Distributed Ledger Technology
Interest in distributed ledger technology (DLT — AKA blockchain) remains high in 2020 but has taken on a different shape: Activity has shifted from unfocused exploration to focused strategic projects.
Read Martha Bennett's blog post: Distributed Ledger Technology Moves Beyond Proof Of Concept
Edge Computing
The components of edge computing have been steadily maturing, and so has the industry definition of it. Forrester expects 2020 to be a breakout year for edge computing.
Read Abhijit Sunil's blog post: Edge Computing Makes The Leap
Europe
In 2020, European firms will grapple with increased volatility on both the economic and geopolitical fronts, and Germany's industrial firms, Digital China, and regulators will capitalize on the opportunities that uncertainty creates.
Read Laura Koetzle's blog post: European Consumers, Regulators, And Digital China Seize The Initiative
IoT
In 2020, CIOs will need a broad perspective to adapt to the new technologies, business behaviors, and security challenges of IoT.
Read Frank Gillett's blog post: IoT Expansion Brings Even More Change
New Tech
Founders and investors alike will take a hard look in the mirror after a turbulent 2019, creating downward pressure on deal sizes and overhyped tech markets in 2020.
Read Carl Doty's blog post: RegTech Funding Will Soar; Other VC Funding Cools
Software Development
In 2020, new processes and platforms will make software developers more productive and, most importantly, more closely aligned with business and customer needs.
Read Chris Mines' blog post: More Changes For Software Development
Predictions 2020: On The Precipice Of Far-Reaching Change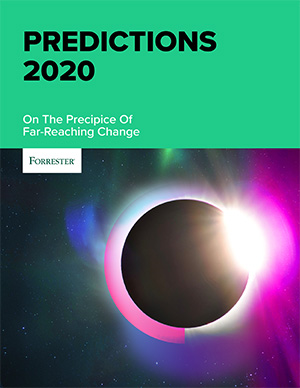 A new decade begins with great uncertainty. Sweeping changes are poised to take place. But which ones? Read Forrester's Predictions 2020 Guide to discover the dynamics that will define 2020 and beyond.