Color
Representing the energy we bring to our work every day
Use color with confidence
Bold color combinations are core to our brand. Careful application of color will maintain our unique look and feel. Our primary palette takes precedence. When applying our secondary palette, refer to the following proportions in a single scenario.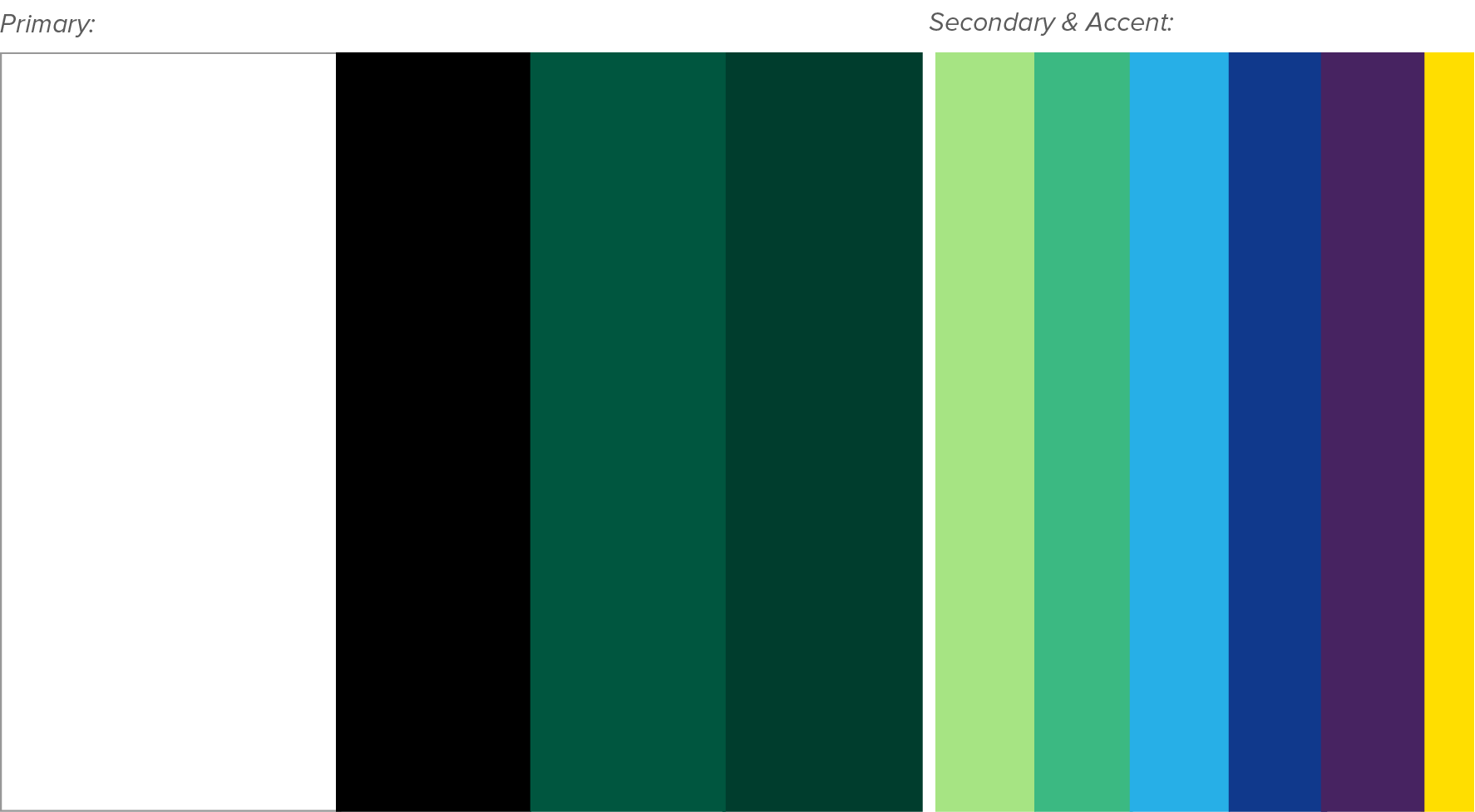 Usage proportions
It's important to follow our rules of proportion in order to maintain brand consistency and remain accessible for all people. White plays an important role in all brand communications and should be balanced with our Forrester Green, Dark Green, and Black. Our secondary colors should be used reasonably in digital and print — typically 1-2 per communication so as not to overwhelm. Yellow is our accent color; a little goes a long way.
Color combinations
Some color combinations are more successful than others. Use our color combination generator for ideas. Start with a primary or secondary color as your base.
Our color palette is recognizable
Our Forrester Green is recognizable and familiar. Our complementary colors are bright and uplifting. We do not designate specific meaning to our colors. Doing so would dampen necessary flexibility and likely be lost on users. Our system is intentionally open and dynamic.
Digital accessibility
Accessibility refers to the design of products, devices, services, or environments so as to be usable by people with disabilities.
In order for digital products to be compliant with WCAG 2.0 standards, normal text (18 pt. and below) must maintain a minimum contrast ratio of at least 4.5:1. Large text (18 pt. and above) requires a minimum contrast ratio of 3:1. Please refer to the recommendations in each color swatch below. If a text color doesn't appear on the desired background color, its usage is not permitted.
For more information on digital accessibility, visit webaim.org.
White
| AA Compliant Colors | Small text | Large text |
| --- | --- | --- |
| Black | Pass | Pass |
| Forrester Green | Pass | Pass |
| Dark Green | Pass | Pass |
| Dark Blue | Pass | Pass |
| Purple | Pass | Pass |
Forrester Green
| AA Compliant Colors | Small text | Large text |
| --- | --- | --- |
| White | Pass | Pass |
| Yellow | Pass | Pass |
Dark Green
| AA Compliant Colors | Small text | Large text |
| --- | --- | --- |
| White | Pass | Pass |
| Yellow | Pass | Pass |
Black
| AA Compliant Colors | Small text | Large text |
| --- | --- | --- |
| White | Pass | Pass |
| Yellow | Pass | Pass |
Bright Green
| AA Compliant Colors | Small text | Large text |
| --- | --- | --- |
| Black | Pass | Pass |
Medium Green
| AA Compliant Colors | Small text | Large text |
| --- | --- | --- |
| Black | Pass | Pass |
Bright Blue
| AA Compliant Colors | Small text | Large text |
| --- | --- | --- |
| Black | Pass | Pass |
Dark Blue
| AA Compliant Colors | Small text | Large text |
| --- | --- | --- |
| White | Pass | Pass |
| Yellow | Pass | Pass |
| Bright Blue | Fail | Pass |
Purple
| AA Compliant Colors | Small text | Large text |
| --- | --- | --- |
| White | Pass | Pass |
| Yellow | Pass | Pass |
| Bright Blue | Pass | Pass |
Yellow
| AA Compliant Colors | Small text | Large text |
| --- | --- | --- |
| Black | Pass | Pass |
| Forrester Green | Pass | Pass |
| Dark Green | Pass | Pass |
| Dark Blue | Pass | Pass |
| Purple | Pass | Pass |