Chatbots Are Transforming Marketing
Marketers' interest in chatbots is growing rapidly. Globally, 57% of firms that Forrester surveyed are already using chatbots or plan to begin doing so this year. However, marketers struggle to deliver value. My latest report, Chatbots Are Transforming Marketing, shows B2C marketing professionals how to use chatbots for marketing by focusing on the discover, explore, and engage stages of the customer life cycle.
The success rate for chatbots today is low — Facebook reported that its chatbots failed 70% of the time — and some early adopters have dropped their chatbots due to disappointing performance. Most chatbots fail because companies:
Don't clearly define their purpose. Companies tend to set a scope for their chatbots that is broad and generic, or they fail to clearly define their chatbot's purpose and communicate it to users. A more focused approach helps meet customer expectations.
Set goals that are far too ambitious. Despite their promising future, chatbots are at a very early stage of development. Today's successful chatbots are driven more by keywords than by machine learning. In the future, advances in AI will move chatbots' potential from "question and answer" to "human-like." The figure below shows the most successful marketing use cases for chatbots today and their potential for the future.
Launch them before they're ready. Conversations with chatbots often give users the idea that they weren't completely ready when launched: The chatbots make mistakes, don't solve the problem, or, worse, overcomplicate things when a simple Google search would have yielded better results more quickly. Many chatbots lack a proper human escalation protocol — causing more frustration when they get stuck.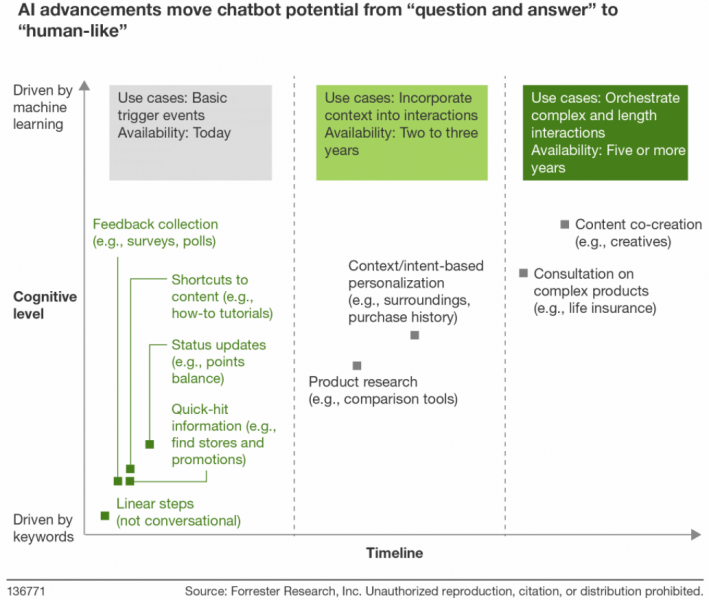 The fact that most chatbots disappoint today doesn't mean that marketers should give up and stop experimenting. If marketers can clearly define the purpose and scope of a chatbot, thoroughly evaluate the benefits it can bring, and plan and execute it well, it can deliver business and customer value.
Most of marketing's important uses of chatbots to win, serve, and retain customers fall in three stages of the customer life cycle: discover, explore, and engage. Marketers can use chatbots to help customers discover brand offerings; explore product and service options; and engage with customers in a more personalized way at scale.
To develop the right chatbot strategy for marketing and learn more about how to use chatbots to help customers discover, explore, and engage with your brands, read the full report.
Related Forrester Content
Categories