A Snapshot Of US Consumers' Attitudes And Behavior During COVID-19
As we all navigate the fluidity and uncertainty of COVID-19, here at Forrester we are using our multimodal data to keep our finger on the pulse of rapidly changing consumer attitudes and behaviors. Stay tuned into our blog as we publish a series of posts highlighting the latest consumer trends that are shaping the cultural and economic climate.
Here, we share a snapshot of current consumer awareness and attitudes related to COVID-19: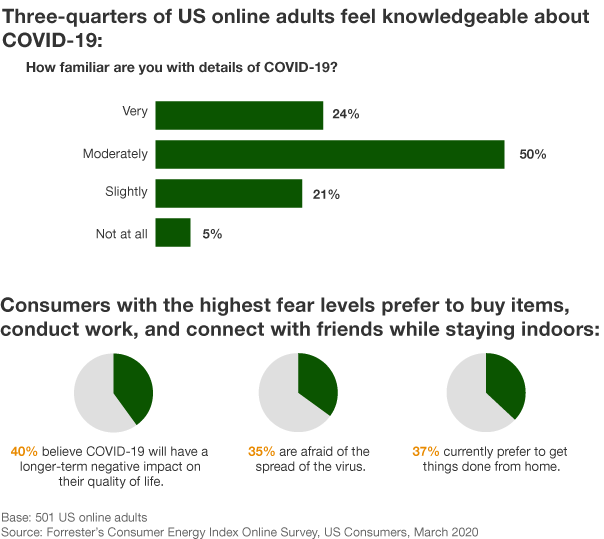 This data, in combination with qualitative consumer research conducted by my colleague Kristopher Arcand, reveals that:
Consumers feel confident in their knowledge of COVID-19 and deeply uncertain about their future. While 24% of US online adults say they are very familiar with details of COVID-19, such as symptoms and precautions, consumers are also keenly aware that a rapidly morphing situation spells dire ambiguity for the future. One member of Forrester's ConsumerVoices Market Research Online Community sums up this tension by saying, "I've been following the news closely and have looked at scientific and medical sources to learn about the pandemic. The number of unknowns is the scary part." (Female, 40–44 years old)
Those who fear the spread of the virus brace for compounding anxiety. Over a third of consumers say they are afraid of the spread of COVID-19. Our data shows that this fear drives consumers into physical and emotional isolation — these consumers are most likely to withdraw from social interaction and are least likely to trust that brands will put their needs first. As one ConsumerVoices member expresses, "This has made my household more stressful and lonelier." (Female, 45–49 years old)
Four in 10 consumers anticipate that they will get things done from home and reduce spending overall. Consumers who continue to shop in brick-and-mortar stores struggle with challenges like low inventory, reduced operations, and long wait times. Currently, 37% of consumers prefer to satisfy their core needs while staying indoors — including working, virtually socializing, consuming media, and making essential retail purchases. These consumers are less inclined to spend on non-essential items: In the words of one ConsumerVoices member, "Other than necessities, I am not shopping for anything at any retailer until this pandemic is over." (Female, 55–59 years old)
As marketers design relevant messaging to ease and engage consumers at this time, they must be aware that attitude, sentiment, and behavior vary across certain demographic groups. In the next blog posts, we'll outline key differences across age, income, and location.
Questions, comments, or ideas? I look forward to sharing more data detail and discussing via inquiry.
Related Forrester Content