Increasing internet penetration, better data infrastructure, and increasing adoption of 4G and now 5G are driving video consumption in Asia Pacific. The Asia Pacific region is a mix of heterogeneous markets such as Australia, Japan, South Korea, China, and India. Markets like South Korea and China are leading globally in term of 5G adoption, and markets like India and, again, China have a huge potential in terms of new users joining the internet every day and low revenue per capita, which is expected to increase in coming years. As per Cisco, online video consumption is set to more than triple in key Asia Pacific markets between 2017 and 2022, and India will witness the fastest growth. Not only will video be the fastest–growing medium, but it also will account for the majority of data consumption. As a result, we expect that Asia Pacific online video advertising spend will reach $53.7 billion by 2023. You can read more about the Asia Pacific online video advertising landscape in detail in our latest report, "Forrester Analytics: Online Video Forecast, 2018 To 2023 (Asia Pacific)."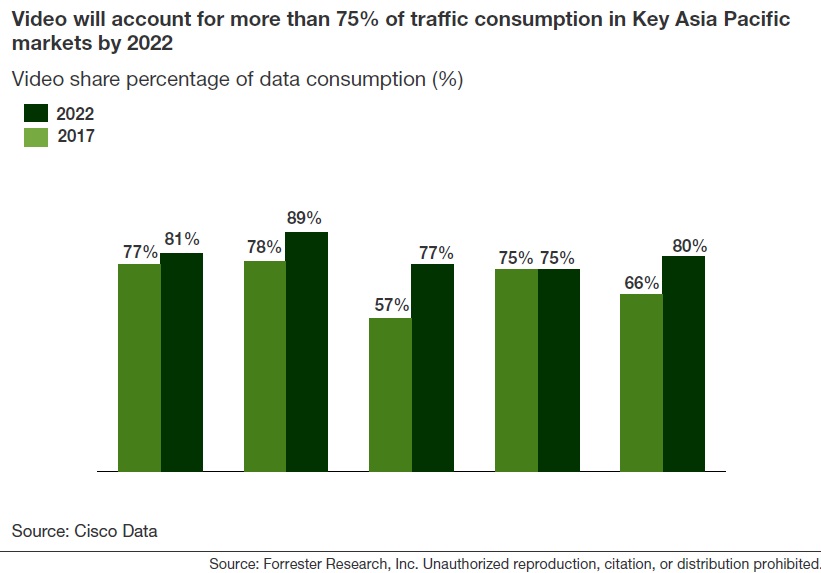 Forrester divides online video into two categories: display video and social video. Display makes up a larger part of online video advertising spend, given the higher contribution from in-stream video, but we expect display video's share to decline with the increasing influence of social video.
Display video

 

includes in-stream 

video

, video 

advertisement

 on e

C

ommerce, news website

s,

 etc.

 In-stream video apps 

such as

 YouTube 

account for

 the

 lion

's

 share of display video advertisement 

revenue

,

 

with

 multiple option

s

 to monetize 

their

 user base 

via

 

pre-/mid-/post-roll 

advertisement

.
Display video

 advertising

 growth has been slowing down 

in recent time

s,

 as 

they're 

being cannibalized

 by their own subscription service as well 

as the 

increasing 

popularity of 

short video 

apps, 

especially in China

.

 

Not 

all markets have 

shown 

this downward

 trend

,

 as 

ad-supported in-stream video services are 

still 

doing well in 

some 

APAC 

countries

 

such as

 

India

.
Social 

v

ideo 

is more of a

 newbie to the 

online video 

space

. Key social players

 

were 

late in adding video products

,

 but

 now

 

they're 

aggressively focusing on it

;

 Facebook, for example, has added

 new products like 

S

tories

 and

 

W

atch

. W

e expect video 

to

 

account

 for 

a 

higher share of social revenue

 

in coming time

s

.
Short video app

s

 

such as

 

TikTok

 and

 

Kuaishou

 gained popularity in 2018 and 

are

 

expected to play 

a 

bigger

 role in APAC's social landscape. 

Short video app

s

 

are

 

an

 

engaging and cheaper medium to reach younger consumers

,

 and b

rands have started trusting 

and investing money 

in

 them. As a result, 2018 has been 

an 

exciting year for short video players

,

 and 

F

orrester expects 

that 

they will account for 

5

% of APAC digital marketing

 

spend

 in 2019

.

 

You can read more 

about 

short video apps and their influence on Asia Pacific

's

 digital landscape

 in our latest repo

rt

,

 

"

TikTok

 Excels In The Age Of Short Videos

."
Note
Display video: Display video advertising includes video banners, other streaming ads, pre-/mid-/post-roll ads, and in-text video but does not include YouTube overlay ads. It includes video ads that run in conjunction with internet-based streaming video content consumed on PCs, tablets, smartphones, and connected TVs or TV devices. This includes streaming online video that is supported by advertising like OTT, online video consumed on a website or app, and video used by eCommerce players in online marketing services.
Social video: Social video advertising targets social video users as well as general social media users. Given the various types of social video ads, a user can see a social video ad without necessarily being a social video user.
Categories