Predictions 2021: B2B Marketers Build Digital Pathways To Distanced Businesses
For most of this year, B2B marketing pros have struggled to predict the present. All the accumulated wisdom and carefully curated data was suddenly suspect against the backdrop of the unprecedented public health, social, and business upheaval of the coronavirus pandemic. Like everyone else, the B2B marketing research team at Forrester wondered: What's working now? Of course, analysts never merely wonder — we predict — and we always think of the future. In June, the Forrester B2B marketing team shared some of our predictions about the lasting implications of COVID-19.
When we got together to muse about our predictions for B2B marketing in 2021, Steve Casey, Laura Ramos, and I cast a wider net. As B2B marketing leaders wrap up 2020 with a keen eye on customer satisfaction and revenue acceleration, they must start looking forward to make sure they are planning for the right strategic pivots and preparing to adopt and optimize new tactics.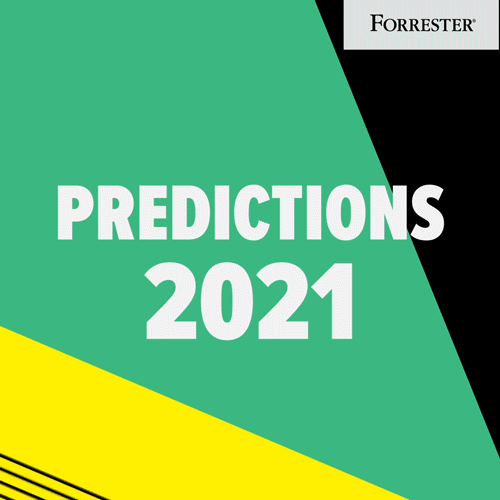 The coronavirus pandemic has dramatically accelerated the digital destinies of both business buyers and business marketers. Marketers must quickly adopt new technologies like artificial intelligence, virtual assistants, and digital events platforms as buyers shift their engagement preferences to digital channels, rather than to remote sellers.
Each of our predictions is specific, vetted with multiple analysts, and founded in data so that it can be measured and that we can be accountable. That level of additional detail is available in our full report, but here are the highlights:
Physical events will rebound but with a new digital dimension. With buyers suffering from screen fatigue, B2B marketers eagerly anticipate the return of in-person events. In fact, a mere six months after the coronavirus pandemic shuttered conference centers and meeting venues, intrepid marketers began venturing beyond the virtual to connect with buyers and partners.
B2B marketers will increase investment in post-acquisition marketing. Before COVID-19, few B2B marketers prioritized customer retention as a measure of marketing success. However, customer retention and expansion are perceived as more important to achieving business growth in tough economic times, so we expect B2B marketers to dramatically increase focus on base accounts and account-based marketing.
AI-powered personalized experiences will near the tipping point. AI-powered martech has proven its efficacy at the early and late stages of the buying cycle, such as in optimizing bids for programmatic advertising or providing next-best content recommendations in a sales enablement solution.
Sales enablement tech will boost ABM maturity and results. Account-based marketing strategies have been stifled by content challenges, and B2B marketers will look to new solutions to solve old problems.
Chatbots and virtual assistants will wise up and win over customers. More than 30% of today's B2B technology buyers say digital engagement channels such as vendor websites have become more important in their purchase journeys. A similar number indicate that human/analog engagement with sellers is less important now.
Read our report for our full 2021 predictions. To understand the major dynamics that will impact firms next year, download Forrester's Predictions 2021 guide.
To dive even deeper into what we see for the coming year, attend our B2B Marketing Predictions 2021 webinar on November 9. The webinar is your chance to engage directly with the analysts who made the predictions. We'll go light on presentation and heavy on discussion, so please come with questions.
Related Forrester Content