Consumer Energy Drops On All Four Dimensions Amid COVID-19
To measure precisely what kind of emotional toll COVID-19 is taking on consumers — and how current consumer sentiment will influence imminent behavior — we applied Forrester's Consumer Energy Index, our data-driven framework that captures how ready and willing consumers are to reach out to brands at this moment.
Results reveal that consumer energy among US online adults has dropped by 10 points compared to this time two years ago: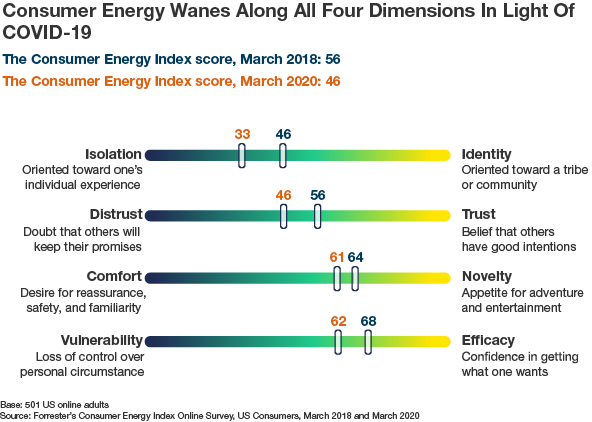 What The Data Means:
Consumers feel fragmented and disconnected. It's no surprise, given that calls for social distancing and remaining in a quarantine have driven people into isolation. Compared to March 2018, "Identity" has dropped the most and is the lowest of all four dimensions.
Consumers find it hard to believe that organizations will do the right thing. After "Identity," the dimension of "Trust" has the second-most-dramatic drop. This indicates that consumers are less optimistic that people and companies will follow through on the promises they make.
Consumers are still in the mood for something new. "Novelty" scores have changed the least. Despite the fear and uncertainty surrounding COVID-19, consumers are not preferring to retreat to the safety of what's familiar much more than they were in March 2018. On the contrary, the insular lifestyles of this moment are stimulating consumers' appetite for entertainment, learning, or adventure to fill the social void.
Consumers slowly feel like they are losing control. The drop in "Efficacy" signals that consumers feel less in control of their circumstances relative to two years ago. However, "Efficacy" is the highest of all four dimensions, which means that consumers still have a bias toward looking for tools and resources that will help them make their experience better.
What This Means For Brands:
Don't expect consumers to be eager to buy your next big thing. A low overall consumer energy score means that the most important emotions driving consumers toward your brand, product, or service are not strong enough to compel action. At this moment, consumers don't have the emotional energy to engage with, spend with, or recommend your brand. COVID-19-driven logistical challenges aside, this is not a ripe moment to convince consumers to open their wallet for your products or advocate for your company.
Craft messages that match the emotional tenor of your customers in this moment. Consumers are not keen to take action with your brand, but a near-steady "Novelty" score means that consumers are ready to be messaged to. Brands like Ford, which has replaced all ads promoting vehicles with a message of comfort and hope, illustrate how companies can use marketing to offset current consumer feelings of loneliness, show competency and integrity to offset feelings of skepticism, or position themselves as a partner committed to helping customers regain control.
Earning trust is your metric for success during this time. With slashed revenues and some business operations grinding to a halt, companies will be forced to recalibrate goals for the short term and reckon with existential questions for the long term. Right now, our data shows that consumers have the greatest capacity to dial up "Trust" — companies that use content and customer experience to strike the right emotional chord with consumers increase levels of trust more than any other dimension of consumer energy. The more trusting consumers feel toward your brand today, the more willing they are to believe that your brand will put them first, even after the COVID-19 crisis passes. Earn consumer trust by showing customers that you're prioritizing people's well-being ahead of the company's financial needs.
Questions, comments, or ideas? I look forward to sharing more data detail and discussing via inquiry.
Related Forrester Content