Solving The Content Data Dilemma: How To Build B2B Content Measurement Dashboards
In Forrester's 2021 B2B CMO Study, B2B marketing executives reported "improving the ROI/effectiveness of marketing" as their top strategic priority, followed by "understanding the needs of buyers and customers in the buying process." In the same study, respondents cited "understanding customers' content preferences" as their number-one content-related challenge. Yet according to Forrester benchmark data, only 41% can view content performance metrics by "audience," and only 34% can do the same by "theme or topic."
Tracking and analysing content performance is still a weak competency area for many B2B marketing organisations. The result is the delivery of content experiences that aren't relevant or contextual for the audiences they are intended to serve. How could they be without knowing their topics of interest, informational needs, intent, or interaction preferences?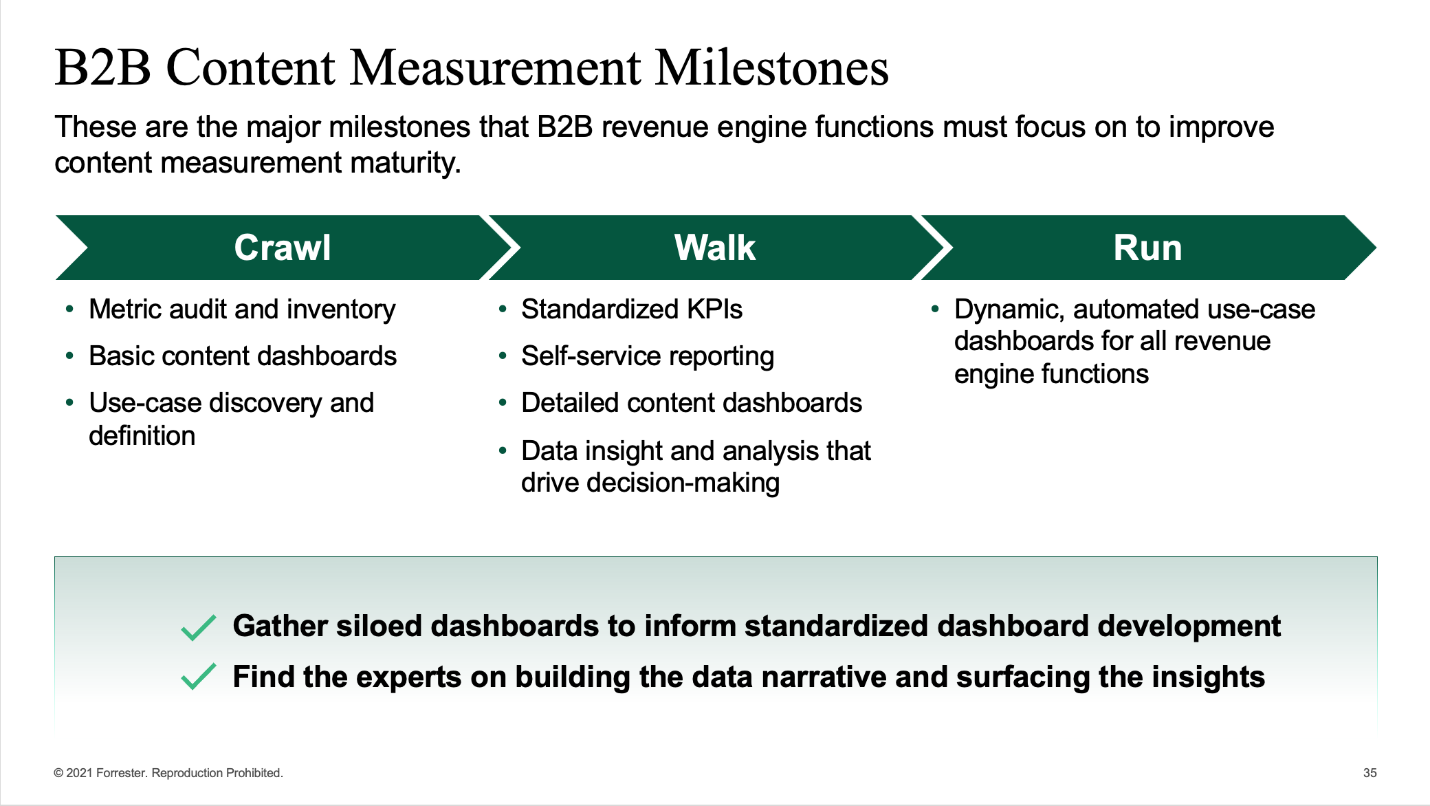 One of the keys to optimising the buyer journey and the customer lifecycle is improving our understanding of how content is contributing to and driving those experiences through the use of content measurement dashboards. Building B2B content measurement dashboards is a five-step process:
Scope parameters and define goals. The first step is to clearly define the criteria for building a pilot set of content measurement dashboards. For example, goals, key stakeholders who will champion and be involved, and the date range of the data to be collected and analysed are all key attributes that need to be defined up front to drive alignment and expectations. Which audiences, geographies, and types of content will be evaluated are additional considerations.
Evaluate readiness. The next step is to complete an inventory of existing KPIs currently being captured by what teams and systems. The content processes and technologies you have and tagging/taxonomy practices will determine the level of content measurement your organisation is capable of achieving. Even though KPI gathering and readiness challenges will likely be found, keep going with whatever you have for now. Any content insights are better than none, and you can improve sophistication gradually over time.
Define use cases and KPIs. Now you need to define the specific use cases and KPIs that will be included in your pilot content measurement dashboard views. What questions are you trying to answer with your dashboards and for whom? Go back to the original goals and scope you defined. Who are these dashboards for? What do those stakeholders need to know? For example, while you should have a master set of KPIs that span the entire ecosystem, a CMO, a content team, a demand center, and a sales enablement team will be interested in different subsets of those KPIs based on their roles and priorities.
Build pilot content dashboards. Once your use cases and KPIs are clearly defined, it's time to build dashboards. If you have the right processes and technology, this can be as easy as pulling standard or custom reports from your business intelligence platform, content marketing platform, or content engagement solution, for example. But if you're just getting started and you have readiness gaps, you can still build helpful content performance dashboards. It will just be a bit more manual and require you to pull data from multiple systems and then combine them into dashboardlike views based on stakeholder audience and use case. But remember, when delivering data, sharing the hard metrics isn't enough. Provide narrative insights that surface the data story and help stakeholders understand what the actionable takeaways are from the content performance data they're seeing. Look for the most important trends, patterns, and anomalies worth surfacing.
Adapt and improve content data and analytics over time. You're not likely going to arrive at perfect content measurement dashboards during a pilot exercise. As you move forward, focus on addressing the content measurement readiness gaps you found in your process and technology. As your measurement capabilities mature, you'll also want to build reporting for an expanded set of KPIs and additional use cases. As you do so, cross-functional teams will be enabled and empowered to make more intelligent content strategy decisions.
To learn more about how to address content performance blindness and surface the insights needed to improve content planning, production, and promotion, you can watch the replay of the complimentary webinar, How to Build B2B Content Measurement Dashboards, where I share more details on these steps.