Create More Video To Engage Your B2B Buyers
If a picture is worth 1,000 words, then what is a video worth? 100,000? 1 million?
The human brain processes video 60,000 times faster than text, so that's a whole lot of words.
B2B buyers are wired to deal with visual information and to remember stories. Reading large blocks of text is the type of heavy lifting our visually oriented brains are wired to avoid, which makes video the perfect medium to deliver information that business buyers will pay attention to.
Online video platforms help marketers create and deliver emotionally engaging content, tell personalized stories, and turn passive viewers into active participants. Leading B2B marketers and sellers combine the personal touch of video with advanced technologies to boost engagement and sales.
Make Video A Key Component Of Your B2B Marketing Mix
Despite the competitive advantages, many are slow to catch on; only 19 out of 60 companies we reviewed earned a passing score for using video on their websites to engage buyers.
In our report, "Now Tech: Online Video Platforms For B2B Marketing And Sales, Q2 2019," we reviewed 35 video platform vendors and segmented them based on revenue, functionality, vertical market focus, and use case. Before selecting a vendor, B2B marketers and sellers should consider their end goal: to help sellers be more engaging and effective? Manage a growing video library? Generate leads through webcasts? To explore these functionalities, we segmented the video market into four categories: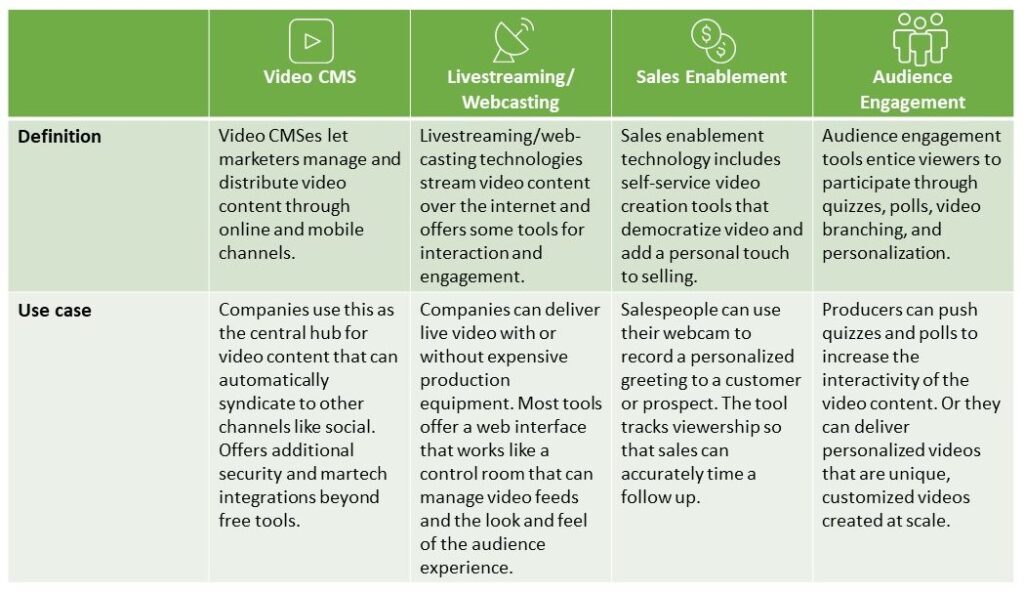 Use this report to help you sort through the technology options in the market best aligned to your business goals and objectives for using video.
As business buyers demand better experiences and seek emotional engagement, video will become a necessary component of B2B marketers and sellers' strategies. Make sure you have the strategy and tools to produce, manage, and scale your content. To understand if you're ready to invest in a video platform, set up an inquiry with me or Laura Ramos here.
Categories