Do You Know Your New Customer Journeys?
New customer journeys are emerging as digital adoption accelerates during COVID-19. These are journeys you'll want to map, because a journey map is often the first opportunity to view the end-to-end customer experience and understand the wants, needs, and pain points of your customers as they navigate that journey.
One good example is the journey of a student who must go from commuter to online student overnight. I recently conducted a remote journey mapping session with a professor at a public university in California while the transition to teaching 100% online was still fresh in his mind. We used the persona of Andres, a fourth-year commuting student who is a first-generation college student from a lower-middle-income home that he shares with his single mom. Andres is a dedicated student. He feels less confident at times because he grew up with limited resources to succeed in school. Here is the first phase of his journey to finish a senior thesis course online: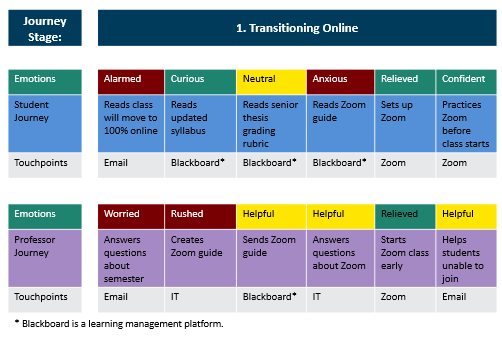 From just this simplified fragment of the journey, we can make some initial observations:
Andres' emotions are up and down as he shifts to online coursework.
His touchpoints are reduced from the myriad that a physical campus offers to just three: email, Blackboard, and Zoom.
In parallel, his professor has some initially negative emotions as he attempts to stay one step ahead of his students' sudden change in needs.
This is just a simplified view of an education journey. A more detailed journey map could surface opportunities to remove student and professor pain points so that the experience can be better next semester. Whether you are picking up journey mapping as a tool for the first time or adding sophistication such as overlaying measurement, a good place to start is "The Definitive Guide To Forrester's Journey Mapping Research." In our remote journey mapping workshops, we introduce key concepts behind customer journeys and experience ecosystems. They benefit customer experience pros and cross-functional stakeholders and offer hands-on experience in mapping customer journeys relevant to your situation so we can together brainstorm possible remedies.
And if you need some pointers on going virtual with your mapping, be sure to catch our complimentary webinar on virtual customer journey mapping, hosted by my colleague, VP and Principal Analyst Joana de Quintanilha, on Wednesday, May 6.