eCommerce Will Account For 36% Of Global Fashion Retail Sales By 2022
Fashion is the second-largest retail category after grocery. The eCommerce shift is a significant, palpable movement in most economies. A quarter of clothing, accessories, and footwear (fashion) spending already occurs online and is still rapidly growing. Brick-and-mortar and eCommerce retailers are vying for shoppers' attention and dollars. In our recently published "Forrester Analytics: Online Fashion Retail Forecast, 2017 To 2022 (Global)," we provide five-year insight into the online and offline fashion retail sales market opportunity, the rise in buyers, and the overall global market dynamic across 32 countries.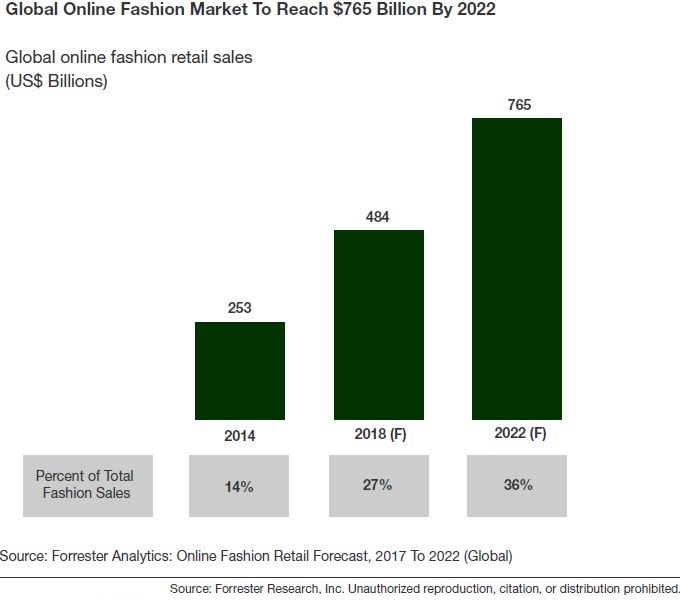 The fashion online penetration rate is roughly twice that of overall retail sales. Our global forecast shows that eCommerce accounts for 27% of total fashion sales, compared to 15% of total retail sales in 2018.
More consumers are buying fashion online. Fifty-eight percent of global online consumers made a purchase online in 2018 — about half of these shoppers bought clothing, accessories, or footwear. We expect the number of global online fashion buyers to reach 911 million by 2022, making it the largest category of online buyers.
The rise of marketplaces and artificial intelligence in fashion continues. Online marketplaces like Amazon are key purchase influencers in a fashion shopper's purchase journey. Shoppers are spending more time on marketplace sites to discover and research products, thereby providing retailers insight into buyers' purchase decisions. Artificial intelligence and machine-learning tools allow retailers to leverage this wealth of consumer data toward responsive design and better product recommendations. This enables marketplaces to launch private-label fashion brands for entry-level customers, such as Moda Rapido and Here & Now by Indian online fashion retailer Myntra, and provide a superior customer experience.
Forrester expects that the global online fashion market will reach $765 billion by 2022, capturing 36% of total fashion sales. Key countries — China, South Korea, Japan, the US, the UK, India, and France — are the key drivers to this spending growth.
For more details, please see our recently published report and forecast: "Forrester Analytics: Online Fashion Retail Forecast, 2017 To 2022 (Global)"
Categories