Europe's Digital Renaissance Starts Now
Europe Has Lost The Battle For The Digital Consumer
European consumers discover the web via Google and use Chrome or web browsers from US firms. European consumers access mobile and apps through Apple and Google on Asian smartphones or iPhones. European consumers spend a massive amount of time interacting socially or getting entertained by the likes of Facebook, Google, Netflix, Snap, or TikTok. European consumers shop a lot on Amazon and pay through Mastercard or Visa.
European publishers and advertisers depend on Facebook and Google. European technology teams depend on US megaclouds and infrastructure. European startups depend on US investors or end up being acquired by US firms. European firms are slower to drive enterprisewide transformation than their US or Chinese counterparts.
Am I exaggerating? Not that much.
What about SAP? Yes, you're right: SAP is the only European technology firm among the top 20 world market capitalizations at the end of August 2020. It's the only technology brand headquartered in Europe in the top 20 global brands, whether you look at BrandZ or Interbrand global rankings.
What about ARM? Just sold to Nvidia. What about fintech players like Checkout.com, Klarna, Revolut, and TransferWise? Yes, they are among the top 10 most-valued European unicorns, but they don't make the top 20 rankings globally.
What about telco and network vendors (Deutsche Telekom, Ericsson, Nokia, Orange, and Vodafone) or payment providers like Adyen, Nexi, or Worldline? Right, these are exceptions, but the EU landscape here is still fragmented.
What about French and Italian luxury brands like Chanel, Gucci, Hermès, and Louis Vuitton? You're right: They have very strong brand equity but are not exactly in the digital and technology space.
What about German car brands like Audi, Mercedes-Benz, or Porsche? Well, they too have strong brand equity, and, contrary to traditional luxury brands, they've embraced digital transformation faster. But Tesla's market capitalization is also huge as the world moves to battery-operated vehicles.
Industrial B2B Platforms Are The Key To Europe's Technology Future
Recent US/Chinese geopolitical tensions have put the technology cold war in the spotlight and offered European firms a global opportunity. Now is the time to catch up by:
Championing European R&D leadership, especially in the B2B industrial space with the likes of Bosch, Dassault Systèmes, SAP, or Siemens (to name a few).
Partnering with global giants to drive innovation in emerging tech. Where is one of Google's largest innovation centers? In Zürich. Where are Facebook or Samsung AI research centers? In Paris. It's time to focus on blockchain, containers, robotic process automation, optronics, applied mathematics, and many other industries where Europe can lead the pack.
Investing in developing a European talent pool. The shift to remote working due to the pandemic, coupled with a better quality of life, is a key opportunity to recruit Europe's amazing talent.
Channeling venture capital (VC) funding and investment into European ecosystems. With a peak of $34 billion in VC funding in 2019, Europe is finally catching up. The new generation of entrepreneurs — especially those from the Nordic region, the Baltic states, and Eastern Europe — are bolder and willing to take more risks by aiming for global leadership. It's time to foster an innovation ecosystem between VCs, universities, and private firms.
Leveraging social values to unite a fragmented Europe. Facing a perception of post-Communist China's surveillance society and the excesses of US capitalism, European consumers want a more balanced, more ethical, and more environmentally friendly future. With its €750 billion post-COVID-19 recovery plan, the European Commission has signaled a clear intent to build a united, resilient, and sovereign Europe.
What does it mean for CMOs and European business leaders? They must hit the refresh button now: accelerate a digital reboot via customer obsession, increase investment in emerging tech, be pragmatic and realistic by auditing the real risks of their dependency on non-European platforms, and take more control of their data.
Let's face it: The reality is that digital platforms are now worth more than some European states.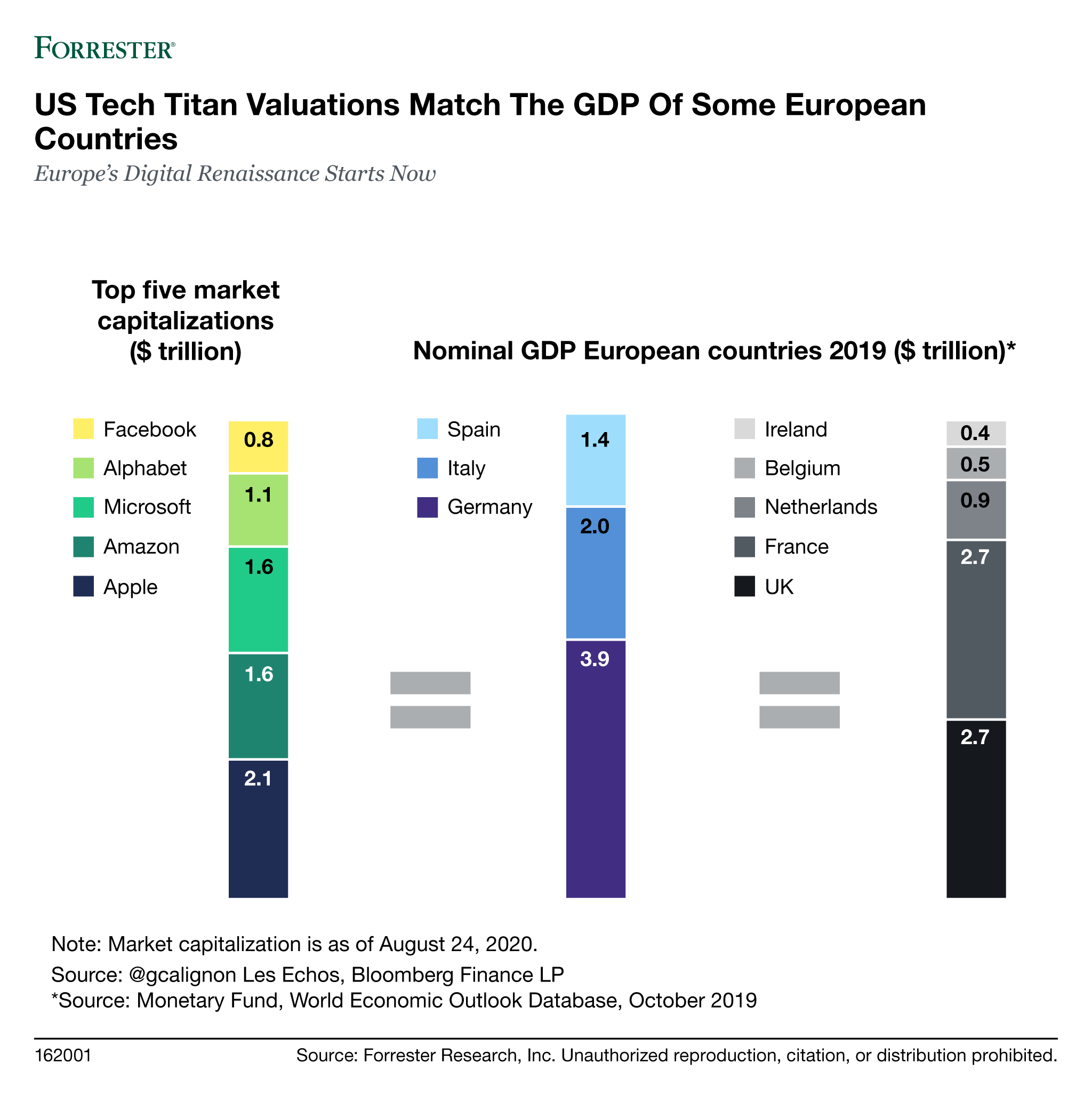 It's time to join forces to influence European policy-making. As Michel Paulin, CEO of OVHcloud, sums up: "Despite Europe being the largest market worldwide, we are the playground of US and Chinese players. Politicians should not be naïve or shy of being more offensive and defensive." The good news is that the European Commission is fighting back, defining an ambitious digital agenda that stresses autonomy and sovereignty. We'll hear a lot more about this with the upcoming Digital Services Act.
However, Europe needs a paradigm shift to catch up with the US and China in the forthcoming digital and technology cold war. If political and business leaders don't act boldly in the next five years, the European digital economy will die slowly.
Clients willing to know more about this can download the full report here or schedule an inquiry to discuss.
Related Forrester Content