How To Derisk Your Commerce Replatform
Narrator: Ladies and gentlemen, the story you are about to hear is true. Only the names have been changed to protect the innocent.
Discernibly shaken protagonist: " . . . the whole project failed. We were at a milestone moment saying to ourselves, 'what do we do?' Our old system wasn't scalable, and we couldn't go on [our new parent company's]. They told us we had five months to replatform. We just started making calls and connections in the industry."
Narrator: Can you or someone you know relate?
We recently interviewed 40 end users, vendors, and services providers to hear the good, the bad, and the ugly of commerce replatforming initiatives. With all the "headless" buzz and mystifying Google search results, most eCommerce leaders told us they struggled with even knowing where to start.
Buy What You Can Use
In the newly released 2020 Now Tech reports for both B2B and B2C, we tracked over 30 commerce vendors and found that more than one-fourth of them offer solutions only fit for digitally advanced clients. But 84% of firms are at a beginner or intermediate level of digital maturity.[i] We know that a significant percentage of tech buyer research starts on Google — but those search results aren't personalized based on your company's level of digital maturity.
To help you narrow down your options, here's a snippet from our "Forrester Infographic: Tips From The Field For Modernizing Your Commerce Stack":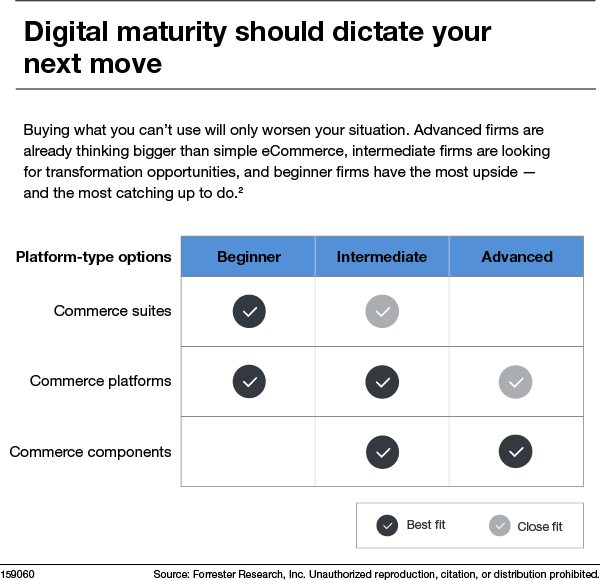 Sins Of The Past
We heard some intense stories about dealing with legacy customizations. Forget for a moment whether you overcustomized (to achieve "valuable differentiation"). Thinking about your new platform merely as a container to lift and shift legacy customizations is a recipe for trouble.
A few eCommerce teams that tried to do that with their legacy provider's new version ended up canceling the project and selecting a different vendor altogether. What stood out to me was the power of a fresh start on a new platform. And the teams were successful on a new platform despite having scrapped their legacy customization code that once provided them with that "valuable differentiation."
You Have Alternatives To A Big-Bang Rollout
We distilled all of these learnings into a set of best practices around when to replatform, how to think about vendor selection, and how to execute the technical migration. For example, companies we interviewed found success with iterative approaches to migrating off their old commerce solution. They minimized technical risk and got up and running faster by:
Launching brand by brand, market by market. One company told us they're starting with brands where they can show the most revenue growth, brand rejuvenation, and protect the consumer.
Segmenting customer channels and flows. A telco told us their experience was already broken down into flows like "existing customer, add a line" and "existing customer, new device preorder." They A/B tested a flow on the new platform until it performed better than the legacy one, then they gradually ramped up traffic to 100% and moved on to the next flow.
"Strangling" the monolith. Breaking up their legacy monolith by isolating discrete applications and moving them to the cloud was the second most common approach we heard. The trick here is that you have to already have your experience layer decoupled. In other words, you have to already be headless before you apply this strategy.
Migrating page by page. Only a few companies we spoke to took this approach, but for those that did, they started with low-risk nontransactional pages to work out the kinks before bringing in sign-in, start-checkout, etc. For this, too, you need to already be headless. Sound complicated? It is — it's a strategy that's only fit for the advanced maturity crowd.
For more replatforming do's and don'ts, check out our new report, "Forrester Infographic: Tips From The Field For Modernizing Your Commerce Stack." Forrester clients can set up an inquiry with me here.
[i] Forrester Analytics Global Business Technographics® Business And Technology Services Survey, 2019