Holiday 2019: India's Festive Season Will Generate $4.8 Billion In Online Sales
This blog post is part of Forrester's Holiday 2019 retail series.
Online retailers in India are expected to generate about $4.8 billion in sales during this year's festive month (September 25 to October 29), mitigating the impact of the general economic slowdown (see graphic below). About 80% of these sales will occur between September 29 and October 4 — the period in which Flipkart and Amazon will hold their Big Billion Days and Great Indian Festival events, respectively. Year-over-year growth in online retail spending during these five days will take a hit, from 93% in 2018 to 32% in 2019. Other highlights for this year's festive season: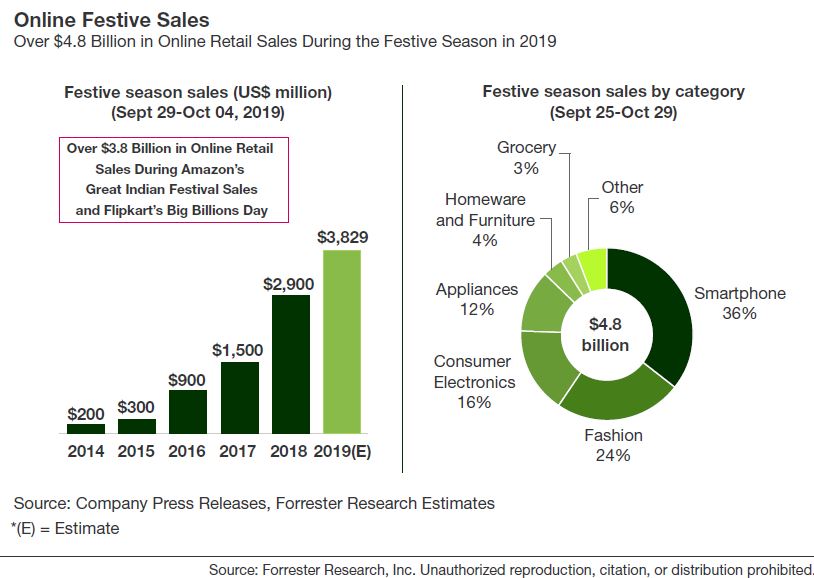 The shift in spending from offline to online and a slow first half will help to push sales. Several factors contributed to the slow growth that online retailers experienced in the first half of 2019; these include disruption due to the implementation of a new eCommerce policy in January and February and the slowdown in the overall economy. However, these factors will have a limited impact on festive season sales, as consumers will look for better deals on marketplaces and get a boost from marketplaces launching new products and offering aggressive discounts and affordable financing. We expect online buyers to spend more during this festive season, shifting spending from offline to online in categories like smartphones, consumer electronics, appliances, and fashion.
Buyers from Tier 3 and beyond will spend more online. It's not only customers in Tier 1 and Tier 2 cities that will spend more online during this festive season; buyers in Tier 3 cities and beyond will, too. After spending some time on online marketplaces, they will buy products in categories beyond fashion and smartphones; they'll also buy products like TVs and appliances. Online buyers in Tier 3 cities will spend more online during this festive season as compared to last year as they become more comfortable with online channels and getting access to brands and affordable financing options. This is an encouraging sign for online marketplaces, which need these customers to buy more frequently and in more categories.
Smartphones will remain the largest online spending category; fashion will lead in orders. Smartphones will account for 36% of all online spending during the festive season, followed by fashion at 24%. Fashion will also replace smartphones as the category with the most buyers and orders. TVs and smart speakers are the categories to watch this year, especially with Motorola, Xiaomi, and OnePlus launching new TV models to cater to customers looking to upgrade their current sets. We expect around 20.2 million TVs to be sold in India in 2019; 30% to 35% of these will be sold online due to pricing and products with better specifications.
Marketplace dominance will extend to product research. In 2019, 74% of Indian online buyers research products online before purchasing them in-store.[i] Marketplaces are a leading source of this research, leaving behind search engines like Google. This makes marketplaces the dominant players for product discovery, ensuring that brands and sellers spend money on advertising on these platforms. The influence of digital on offline purchases will be the key area of brand investment in the near future in India.
We will be updating our online retail forecast for India next month. Meanwhile, for more detail on the future of the Indian online retail market, ForecastView clients can access our online retail forecast for Asia Pacific.
[i] Source: Forrester Analytics Consumer Technographics® Asia Pacific Online Benchmark Survey, 2019.
Categories