Many Digital Banks Will Struggle Amid The COVID-19-Induced Slowdown, But A Handful Will Innovate And Thrive
On Thursday, April 16, payments firm Stripe announced that it had raised $600 million in fresh funding. The funding comes on top of a $250 million round in September 2019 and values the fintech at an eye-watering $36 billion. The economy may be contracting as a result of the COVID-19 downturn, but investors are certainly not losing faith in fintech. But not all fintech will maintain its allure. Challenger banks might have been the darlings of the tech scene over the past few years, attracting millions in venture capital in their quest to displace traditional financial institutions. But they're now passing the baton to startups and scale-ups, which are seeing sky-high demand for their services as a result of the lockdown measures introduced by governments.
The COVID-19 outbreak has changed the market radically in just a few weeks, and the economic downturn that follows will put many challenger banks out of business. Digital banks were already experiencing issues before COVID-19, with a crowded market, a lack of clear product differentiation, and struggles to scale. Hardly any has achieved profitability to date: Aldermore and OakNorth Bank in the UK and Tinkoff Bank in Russia stand out as rare exceptions. The protracted period of economic instability and contraction will make it much more challenging for digital banks to keep growing and achieve profitability fast enough.
What happens next?
A small number of digital banks will capitalize on their digital DNA to innovate further around customers' financial needs.
Customers' financial lives are unpredictable. The COVID-19 crisis is further exposing the inefficiencies of current financial services offerings and the outdated nature of the processes that underpin them. Many customers — especially those living paycheck to paycheck, with no financial cushion — will see their financial health seriously impacted in the months following the COVID-19 crisis. Tailored financial solutions and money management tools are more needed than ever. Digital banks are digital-first and will capitalize on that to innovate further around customers' financial well-being. A host of maturing technologies makes autonomous finance finally possible, and we can expect those more agile fintechs to lead the way in enabling more personalized financial coaching.
A handful of digital banks will differentiate by reaching out and demonstrating awareness of customer vulnerability resulting from the pandemic.
In this time of uncertainty, digital banks are keen to find ways to help reduce customers' financial stress and build trust. With many customers finding themselves in a financial emergency, digital banks like Monzo in the UK have proactively reached out to demonstrate awareness of customer vulnerability and provide support and reassurance.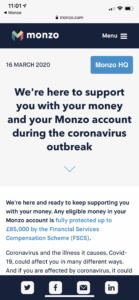 Resilience and grit will help a few challenger banks survive the pandemic crisis.
In every crisis lies an opportunity. The COVID-19 crisis could ultimately end up benefiting challenger banks by accelerating the digitalization of populations at large as well as the digital transformation of financial services. But challenger banks will need to fight to survive. A handful of digital banks — those that secured funding recently or had large numbers of customers already — will manage to weather the pandemic crisis until the third quarter of the year and then make it through a 12–18-month recovery period.
Digital banks have few exit options as a result of the COVID-19 crisis: pivot, sell, or fold.
Many digital banks will bite the dust. Some incumbents might want to acquire challengers' technology stacks to upgrade their technology. But this is a risky bet. Devaluation among digital banks will start a race among incumbents to pick up digital capabilities on the cheap, so founders might only get low offers, if any.
To find out more, check out ForresterNow: Many Digital Banks Will Struggle To Scale Profitably Amid The Economic Slowdown, But A Handful Will Innovate And Thrive. Or set up an inquiry.