Predictions 2019: Transformation Goes Pragmatic
Our Predictions 2019 guide, "Transformation Goes Pragmatic," is live.
What do we mean by pragmatism? A sense of realism, practical steps, a desire for tangible outcomes.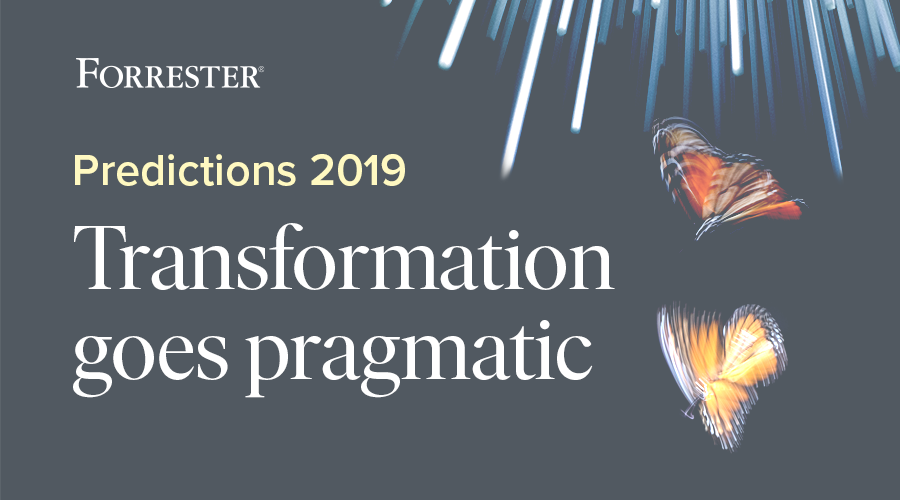 It's a good description for what we are seeing in a market that carried ambitious strategies into 2018 but ran afoul of internal headwinds.
Don't get me wrong, the external market is neither easy nor forgiving — the combined forces of empowered customers, hyper-digital advancement, and new and hostile competitive fronts are not going away. But forced pragmatism results from issues related to allocation and readiness: Did leadership allocate the political and real capital necessary to overcome organizational inertia? And was the organization ready for this kind of strategic upheaval?
Turns out, no: All good intentions aside, allocation was mostly insufficient, and practical considerations such as back-office technical debt created stronger headwinds than expected. Indeed, we saw flat CX performance, slimmed-down digital efforts, and culture chewed on by the jaws of culture. The revolution was interrupted . . . but hopefully not stopped.
This is a fork in the road for leaders: Is pragmatism in 2019 traction or retrenchment?
The pace of change is not slowing down, nor is the market getting more forgiving: Customers challenge companies to deliver value to their lives. The pace and diversity of technology — from the promise of AI to the reality of technical debt — challenges prioritization and budgets. And cyberthreats can destroy a brand's value in days. These continue to be consequential times for leaders seeking to retool their companies to compete in a dynamic, hostile market.
I hope you enjoy and learn from our 2019 predictions. Mostly, I hope that leaders treat 2019 as a critical foundation-building moment — and are ready to come out swinging in 2020.
Interested in hearing more? Watch our predictions 2019 complimentary online event where Forrester thought leaders will dig into the major dynamics that will impact your firm in the year ahead.