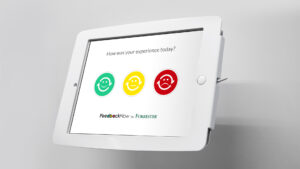 I recently wrote about how customer experience is stuck in neutral and how even the best companies are having a hard time moving it forward.
Why are we in this state? Because demanding customers are no longer satisfied with experiences that change at glacial speed. They are coming to expect that CX will be continuously improving — weekly, daily, or in the moment. They can't understand why they give feedback in surveys or follow-on emails or pop-ups and — nothing changes.
Forrester believes that the next frontier in CX is real time. Companies must have the ability to monitor experience — now — and improve experience — now. This will enable firms to:
Differentiate. Few large corporations have implemented real-time CX — most are still in the "survey and pray" mode, leading to retrospective efforts with negligible impact.
Retain customers. Knowing that a customer is frustrated and relieving that frustration immediately will win big points. These unexpected moments will delight customers and strengthen brand loyalty.
Win new customers. Products and services that are continuously improving will attract new tryers and buyers. Why has the Tesla Model S stolen so many customers from Audi, Mercedes, and Cadillac over the last four years? Because periodic software updates make the car better continuously, unlike the frozen-in-time alternatives. 
All of this is why Forrester developed FeedbackNow 2.0 — a service enabling companies to roll out in-the-moment CX. This digital and physical multi-input solution employs machine learning and AI to filter feedback — ensuring that companies are focused on the parts of their experience that will have the biggest positive impact on their customers. We are already managing 350,000 feedback data points per day for over 200 clients worldwide. FeedbackNow, coupled with Forrester's 20 years of CX research, our CX consulting capability, and in-depth analyst advice, will enable clients to shift from static customer experience to real time. Interested? You can find more information here.