Rethinking Sustainability In The Middle Of A Pandemic
Some people would call 2020 "biblical." Fires raged across Australia for almost 80 days; a locust plague has ravaged East Africa; the COVID-19 pandemic has dramatically changed our way of living; and social unrest and racial discord erupted in the United States and spread to other countries. And the year is not even over yet.
When things go south, we hope things will get better in the end. And they often do. But what if 2020 is not a usual year marked by black swan events but rather a reflection of how bad things have become and how badly we need change?
Consider this: We've lost 20 million hectares of forests every year since 2011; more than 8 billion kilograms of plastic end up in the oceans annually; air and water pollution has reached critical levels in many major cities; there are around 265 million working children (almost 17% of the worldwide children population); about 1.7 billion adults remain unbanked; and $111 billion was invested in fossil fuels in 2019.
2020 Is Making Us Rethink Our Lives
Until recently, most of us have not thought all that much about sustainability. These things often feel too distant to be meaningful, their impact too slow to be noticeable in our daily lives. But this is changing fast.
COVID-19 has made us aware of our vulnerability — and has justified extreme measures. Lockdowns have been an extended period of reflection. The worldwide chaos caused by COVID-19 is not a result of climate change, but the scale of disruption is comparable, in many ways, to a world where climate change is left unchecked. The pandemic has let us experience the very real global disruption wrought by a seemingly science-fiction-like natural event that arrives gradually, but inexorably, and quickly bulldozes through our entire social and economic system. This time, it is a virus — next time, perhaps an extreme weather event. So despite the ongoing coronavirus crisis and a looming recession, business and political leaders are taking sustainability more seriously than ever.
Consumers have discovered their consciousness. An increasing number of customers see beyond the pure transactional interactions with companies and demand business practices that are both ethical and sustainable. This consumer awakening will impact companies on many different levels, beyond just sales. Dissatisfied customers might not be able to leave rogue companies on the spot if alternatives do not yet exist, but they will gradually disengage and eventually look for — or create — alternatives.
Employees care more about values, too. Employees want to find communities they can identify with to replace the affiliations that they used to have outside of work. More people face a future with fewer personal connections and seek information about company values before applying for a job. They also tend to work harder for firms that let them live their ideals. Forrester's research shows that great employee experience reduces employee turnover and improves productivity.
Sustainability has become a business necessity, not just a differentiator. In the coming years, businesses will need to adapt to a host of new environmental, social, and governance risks or face extinction. It is no longer a question of whether it is "necessary or not" to launch sustainable business practices but rather how long it will take before consumers, shareholders, or governments punish businesses that don't. While dialogue, engagement, and even government subsidies can motivate reluctant companies, fines and customer boycotts are often more effective.
Sustainability Is The New Business Reality
Sustainability is not a trend that will pass but a new business reality. Companies will be forced to comply as governments put measures in place to reach the Paris Agreement's goals and the European Commission doubles down with its taxonomy for sustainable finance.
Becoming more sustainable will test established companies' sourcing, employment, and growth strategies. Companies that were born pursuing a sustainable agenda have an advantage. Agile businesses will turn risks into opportunities: Sustainability concerns are an opportunity to bring to market products and services that meet new customer demands.
Performance metrics and reporting standards are already changing. A company's future is determined by the incentives its employees work with today. For a company to become truly sustainable, it will need to change its internal workings. Regulators are encouraging this with new tools and classifications. For example, the new EU taxonomy categorizes economic activities/sectors by their contribution to six environmental objectives, helping investors understand the sustainability risks and opportunities of their investments.
Finance is part of the solution. As allocators of capital, banks and asset managers play a big role in steering the transition to a low-carbon economy and improving local communities. Sustainability is also essential to reducing the cost of claims and reinsurance and ensuring the survival of the insurance industry. Pursuing a more sustainable agenda, disclosing environmental, social, and governance (ESG) risks, and blacklisting certain types of clients and activities will force the financial services industry to turn to new sustainable products and services to replace lost revenue and increase net interest.
Technology will enable this change. The internet of things, big data, artificial intelligence, and blockchain are at the core of companies' digital transformation. They are also key to sustainability, enabling data acquisition, storage and curation, insight and analysis, and trust and accountability that companies need to assess their compliance with ESG standards.
Forrester Is Launching New Research Into Sustainable Finance
To help companies navigate this new challenge, we are launching a new stream of research on sustainable finance. Sustainable finance refers to the inclusion of ESG criteria in business or investment decisions for the long-lasting benefit of clients, partners, stakeholders, and society at large.
Building on Forrester's existing content on financial well-being, values-based consumers, the future of work, and climate risk management, this new line of research will consider the changing attitudes and impact of ethics and sustainability across financial services. We will evaluate changing customer attitudes and behaviors with regard to sustainability, how companies are adapting to this, and what technologies they are leveraging to enable the transformation.
This has been a challenging year, but sometimes the greatest achievements spring from the direst of circumstances. Tell us what you and your company are doing to face the challenges of sustainability, and stay tuned for upcoming research on this topic.
You can now access this complimentary webinar replay around Sustainable Finance, part of our Europe Financial Services Webinar Series. Click here to watch.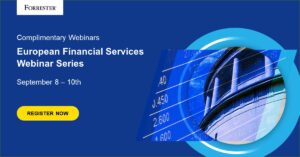 Related Forrester Content