Sales Tech Convergence And Confusion
Three key sales tech categories are beginning to converge with significant overlap in functionality
While convergence is needed to deliver improved value, overlap creates confusion for buyers
This blog provides defines each category and shows clearly the differences between them
Recent years have been somewhat of a golden age for sales technology, as an entire industry has risen up around Salesforce and other customer relationship management (CRM) providers to enable sales reps, managers, and teams with an increasing bewildering array of technology choices (as seen in Nancy Nardin's lastest sales tech landscape) designed to drive efficiency and effectiveness. Driven by digital transformation, related changing buyer engagement modes, and the COVID-19 pandemic, spending on tech continues to rise as companies look to adapt. In such an environment, how do sales leaders, sales operations, and sales enablement practitioners navigate their way through such an increasingly crowded space?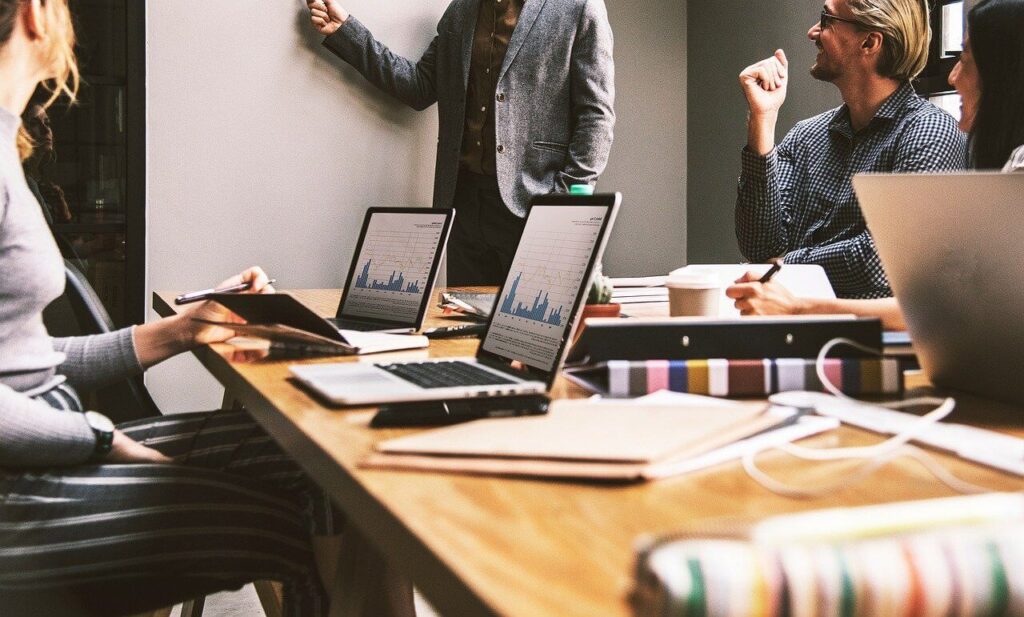 Seeing The Wood For The Trees
Given the high volume of inquiry I have with clients on how to decipher the sales tech landscape and the high demand for related research, it's clear there continues to be widespread confusion. This confusion is not helped by the significant overlap in features and functionality that exists between different sales tech categories. Unsurprisingly, there's also significant frustration that — on top of the considerable "mortgage" that must be paid to the CRM technology provider of choice — much of the tech action now takes place outside or on top of the CRM platforms. Companies must therefore find the funding to allow investment that enables them to "keep up with the Joneses" when it comes to efficiency and effectiveness.
Convergence — The Good News For Buyers
The good news is that 2020 saw further indication of significant convergence underway in the sales tech industry. Whether this is evidence of providers listening to buyer concerns or (more likely) driven by more commercial concerns around continued growth and the need for differentiated value in a crowded space, this trend had been underway before last year — but in 2020, it really started to redefine major sales tech categories. We expect the trend of consolidation and convergence to accelerate throughout 2021. This will bring greater value for buyers of sales tech, reducing dependency on point solutions, for example.
To look at some specific category examples, sales engagement has emerged in recent years from the absorption of a whole range of point solutions aimed at improving outbound sales effectiveness and efficiency (e.g., dialers, calendaring, cadence management) — as some of these technologies ended up as many often do — a feature in someone else's product. In addition, intent and data providers have become increasingly integrated with such platforms through APIs to help the prioritization and efficiency of selling efforts. New providers such as Apollo and Clodura are including data provision as a core feature of their platforms.
Becoming a feature in someone else's product is also being experienced by some of the original conversation analytics providers, as such features have become increasingly available within other categories such as sales engagement, sales readiness, and revenue intelligence. As a result, providers like Chorus and Gong have been busy repositioning themselves as broader revenue intelligence providers. 
Convergence — The Bad News For Buyers
Although consolidation and convergence has been needed to deliver greater value to buyers, as some of these clusters of technology move closer to each other, the degree of overlap in terms of functionality is often considerable. Meanwhile, the definition of some categories has, until now, been provider-led, resulting in considerable message confusion for buyers. 
Providing Clarity On New And Changing Sales Tech Categories
Clear definitions of these different areas provide a starting point to clearing some of the mist surrounding sales tech. Here we focus on three categories that are currently going through significant change:
Revenue intelligence. Revenue intelligence solutions capture human engagement activity between buyers and sellers and automatically upload that data to CRM platforms. The AI engine analyses data to deliver insights, provide dynamic guidance, and supply inputs on deal management, forecasting, and other revenue-generating activities.
Revenue operations. Revenue operations platforms allow companies to optimize the performance of the revenue engine by centralizing data and analytics across opportunities, accounts, and pipelines for sales teams. These insights enable robust management of forecasting and revenue performance, while also providing greater transparency and accountability.
Sales engagement. Sales engagement platforms help early-to-mid, mid-to-late, full cycle, and post-sale reps manage their omnichannel touchpoints. By automating manual repetitive tasks such as outbound dialing, leaving voicemails, calendaring, and tracking emails, sales engagement platforms deliver significant productivity gains. Embedded AI helps users pick the best messaging, understand preferred engagement channels, and surface missing contacts.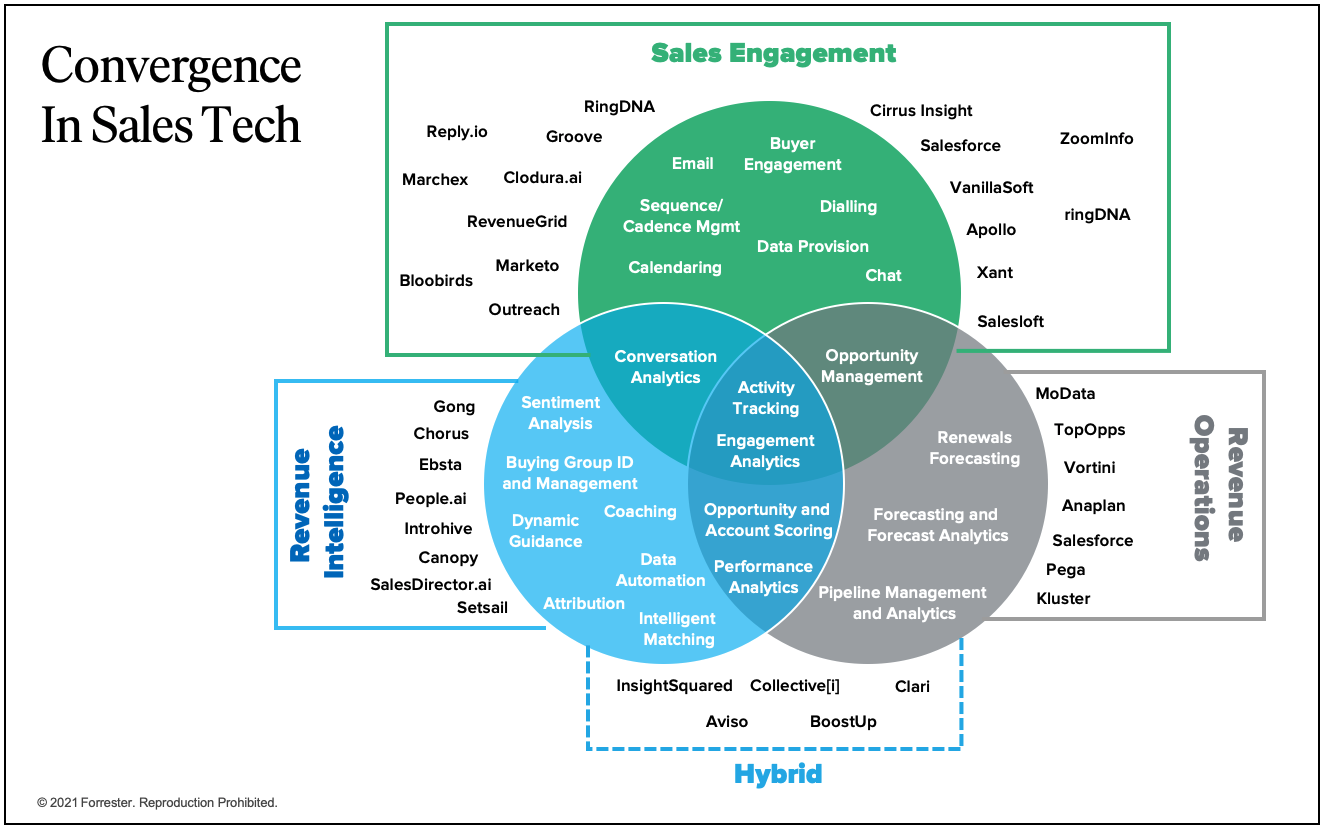 Understanding The Overlaps
These three tech categories are moving closer together and now share significant overlap, particularly around the capture and analysis of buyer engagement data. Companies such as Clari, InsightSquared, and Collective[i] now clearly sit across revenue intelligence and revenue operations. Salesloft's acquisition of Costello has allowed it to reach into later stages of the sales cycle, providing functionality for users to update their opportunities and forecasts from within their sales engagement platform. This notion of the sales engagement platform as a cockpit for sellers is likely to continue to drive further integrations between other sales tech categories and these platforms as the advantages of bringing everything to the seller where they sell (the original vision for CRM technology) become more widely recognized.
Staying Clear Headed In The Confusion
Throughout 2021, Forrester will be exploring these categories and their changing nature in great detail, and we are out of the gate already with the Q1 Sales Tech Tide. This report covers the primary categories in sales tech, defining each one, their related business value, and some of the key providers in each space. If you're not a current client, visit us here to learn more, or send me a message on LinkedIn. I look forward to connecting!