The Importance Of Defining Event ROI In The B2B Marketing Mix
"If a tree falls in a forest and no one is around to hear it, does it make a sound?"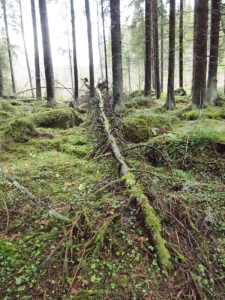 This question, first attributed to philosopher George Berkeley in 1710, raises debates about observation and perception.*
Both are important to consider when assessing the value that physical events deliver. While you can attribute some ROI to hard observation, much value still falls into the category of perception. Answering the question "Do events matter?" is a lot like that proverbial tree if marketers don't agree on how to measure returns. Since events consistently take the largest slice of the annual B2B marketing budget pie, averaging 12% of program spend in our latest survey, getting to that agreement is important. However, only 18% of event technology vendors say their clients can demonstrate measurable returns on this budget-consuming tactic.
We think Chuck Ghoorah, cofounder of Cvent, sums the dilemma up well by observing that marketers will spend all this money to track the 30 seconds customers spend on their website but have no clue about what's happening during the three days customers or prospects spend at a user conference.
Event participants are in decision-making mode; they take time out of busy schedules to attend, learn from others, and inform their current and future purchase decisions. Shouldn't you account for all the value that happens during event-related interactions?
Time To Get Serious About Measuring And Communicating Event Value
The physical nature of events makes it difficult to capture and classify participant activity when compared to pure digital tactics. Until the advent of event-specific mobile apps, event management technologies struggled to collect data, track attendee experiences, and turn that insight into measures that demonstrate the value delivered. Have we arrived at a point where B2B marketers can no longer afford to treat events like trees and argue that the sound upon falling still happens even if we can't measure it?
Our research shows buyers and marketers find that physical events matter (a lot!) despite an increasingly digital purchase process:
Forty-five percent of B2B buyers find event materials, including presentations, keynotes, and booth materials to be the second most important source of content.
Top B2B marketers know giving attendees a memorable experience can help shape purchase decisions. Events also represent a unique opportunity to capture formally presented and spontaneous content and turn it into a wealth of useful marketing assets.
Buyers also list event presentations (62%) and vendor-supplied event materials (59%) among the top five content formats with which they prefer to engage (source: Forrester's Forrester/Internet Retailer Q1 2017 Global B2B Buy-Side Online Survey).
B2B marketers consider events as a top-three demand management tactic for the consideration and retention and enrichment stages (source: Forrester Analytics Global Business Technographics® Marketing Survey, 2018).
Simply put, events are worth the time, effort, and budget. But not all events are equal. The time has arrived for marketers to define and track event value so they can prioritize investment accordingly.
How Can B2B Marketers Bring Events Into The Digital Age?
Bringing events into the digital age requires tools and process change. It also requires marketers to stop treating events like a campaign tactic but rather an opportunity to create unique and meaningful experiences for customers and prospects. To help you evolve your event strategy quickly and make investments pay off in richer customer relationships, we have two pieces of research that can help you better plan, execute, and track event value and make events a centerpiece of your customer interactions (a subscription is required to view both reports):
"Increase B2B In-Person Event Payoff With Digital Immersion" — This report explores why B2B marketers struggle to demonstrate ROI. It explains best practices for making events more engaging and shows how to increase event payoff through extended digital engagement.
"Now Tech: B2B Event Management Software, Q2 2019" — This report gives an overview of the B2B event management software technology landscape — technologies marketers can use to manage, automate, and scale digital and in-person events, provide an engaging attendee experience, and increase the ROI of event investment. B2B marketers can use this report to understand segment differences between technology providers and to help select one based on size and functionality.
* "Sound is vibration, transmitted to our senses through the mechanism of the ear, and recognized as sound only at our nerve centers. The falling of the tree or any other disturbance will produce vibration of the air. If there be no ears to hear, there will be no sound." (Scientific American, April 5, 1884, pg. 218)
Related Forrester Content