TikTok — When Geopolitics Trumps Tech Innovation
In the past two months, I've received dozens of inquiries about TikTok. While the case is still unsettled, I wanted to summarize some of my comments in this blog post.
Is banning TikTok in the US "tit for tat"?
Not really. People often compare the US government's handling of TikTok with the Facebook and Google situation in China. But these are two very different situations: Facebook and Google made their own decisions not to comply with the Chinese government's data censorship regulation that is the prerequisite to operating in China. While TikTok is willing to and has so far complied with relevant regulations in the US, the US government still doesn't allow it to operate in the country unless it changes hands from being a Chinese company.
What happened to TikTok in Hong Kong and India?
TikTok has officially pulled out of Hong Kong, but consumers can use its Chinese version Douyin. TikTok and Douyin are two separate apps and subsidiaries owned by ByteDance to serve international and domestic markets. This positioning has always been clear to its domestic and overseas users. Like any business, TikTok has to comply with data security and privacy regulations in each market it operates in. TikTok's Hong Kong decision makes sense, since Douyin would be more applicable to Hong Kong than TikTok.
India has banned 59 Chinese mobile apps, including TikTok. This is also a geopolitical move, and TikTok couldn't do much about it. Losing the Indian market is tough for TikTok, but the damage is not as hard as it would be to lose the US market. The US is TikTok's second-largest market after India in terms of downloads. But in terms of monetization, the US market is significantly more important than India. According to Forrester Analytics: Social Media Advertising Forecast, 2019 To 2023 (Global), the social media advertising spending in 2020 will reach $37.374 billion in the US and only $1.673 billion (in US dollars) in India.
What can TikTok and other Chinese tech firms do to react to the geopolitical impact?
TikTok should aim to reinforce its compliance of data regulations and respect and protect consumer data privacy in each and every market it operates in.
It's hard to predict if the geopolitical impact will be short- or long-term. But two trends are clear:
Consumers all over the world are becoming more privacy-aware. They are raising their expectations of these companies to respect consumer data privacy and will "break up" with companies that fail to meet their expectations and will only engage with companies they can trust. It doesn't just apply to TikTok or other Chinese apps but also Western ones such as Facebook.
TikTok's actions will change the global expansion mindset and strategy of Chinese companies. When the geopolitical environment is less friendly, Chinese companies that aim for global expansion should increase the variety of their investment, in terms of both market selection and investment methods, such as mixing indirect investment in local businesses with direct operations.
How will this change Chinese and other foreign companies' strategies in the US?
It will discourage Chinese and possibly other foreign companies to invest in the US because it has lost its charm as a fair business environment. On the other hand, countries like Singapore have been enforcing a neutral position as an independent market that provides a fair business and investment environment, which could make it more attractive to Chinese and other foreign companies and investors.
Why does TikTok matter to marketers? What does it mean for them?
The allure of the TikTok platform to marketers revolves around its popularity among young consumers, especially teenagers, as well as higher engagement rates compared to other platforms (see graphic below).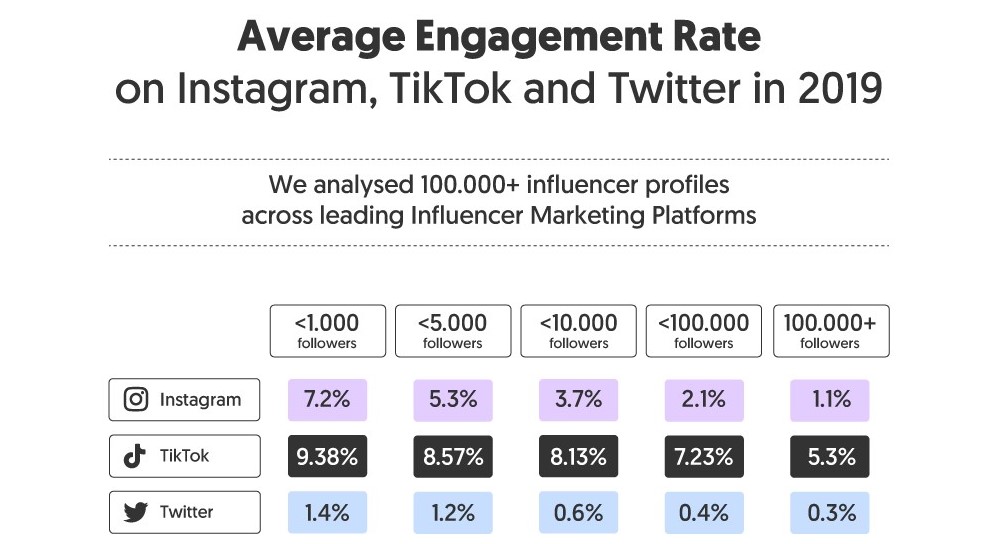 (Source: Influencer Marketing Hub)
Marketers should carefully review social platforms' data privacy policies and evaluate previous cases of any misusage of consumer data rather than make a call based on who owns the company. Most consumers and marketers understand it's a geopolitical issue rather than a real data privacy scandal like the Facebook-Cambridge Analytica incident. As we know, TikTok users are supporting this platform, and consumer sentiment toward the TikTok brand is still positive. As long as consumers stay, marketers will follow.
Why are Microsoft, Twitter, and Oracle interested in acquiring TikTok? What are the potential benefits and risks?
TikTok is one of the most popular and fast-growing social platform and short-video-sharing apps in the world, especially among teenagers. From a pure business perspective, its parent company ByteDance doesn't have any reason to sell it. It would make more sense to aim for an IPO. However, geopolitics has created this rare opportunity for Microsoft, Twitter, Oracle, or any other company that wants to acquire TikTok. It would help them expand their user base from working professionals to young consumers (especially teenagers) or from B2B businesses to general consumers focused on pop culture and entertainment.
There are a few risks or potential pitfalls:
If the new parent company is able to maintain the young, chic, pop-culture-oriented, and innovative gene of TikTok as a startup today
If TikTok is able to maintain brand consistency when two very different parent companies are running TikTok in America and internationally
How to balance monetization and consumer data privacy
What would a TikTok acquisition mean to Facebook and Google?
TikTok is already a strong competitor to Facebook today. If the new parent company could successfully carry on TikTok's momentum in attracting young consumers and content creators/influencers, it's possible that this would make it a third important digital ecosystem to brands beyond Facebook and Google and would definitely take a share of marketers' advertising dollars from the two platforms.
Which TikTok rivals in the US, such as Byte, Instagram (the new rolled-out feature Reels), and Triller, will have the best chance to compete?
Among the US competitors, Instagram has the best chance, as it has a strong current user base and would avoid the pain of user acquisition. It would be easier for Instagram to attract marketers, too, because Reels is just an added feature of Instagram. Marketers are already investing in Instagram, and it may be easier to convince them to try out a new ad format on a familiar platform than try out on a completely new platform. Marketers should take a trial-and-error approach to see how it goes.