Top 143 Social Media Groups For MSPs, VARs, And Tech Channel Professionals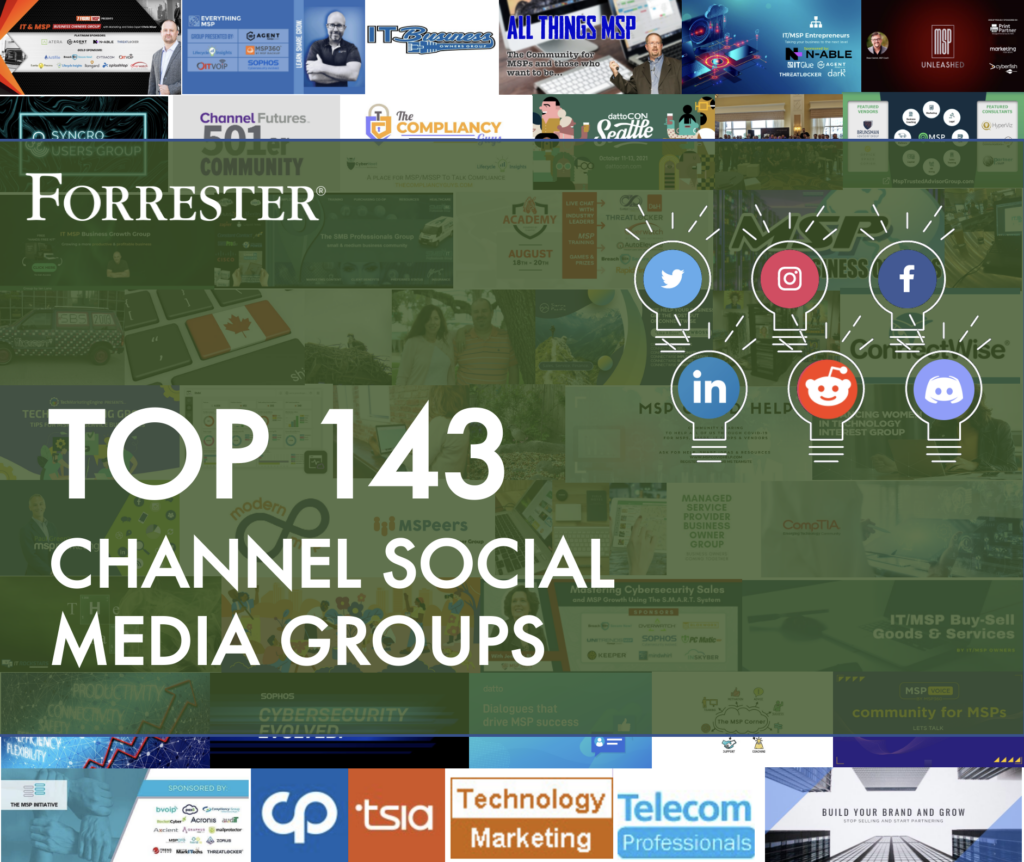 The channel is very large, highly diverse, and incredibly decentralized.
Channel partners know that to be successful, they need to carve out a niche — whether that be by line of business, by industry (and, increasingly, by subindustry), by size of customer, geographically, technologically, and by business model. These six vectors are not mutually exclusive, and buyers of technology are looking for a match across all of them.
One of the biggest mistakes vendors and distributors make is a "field of dreams" approach where they will (over)invest in internal community tools, figuring that partners will come.
In reality, partners have built levels of trust (over decades) across communities of peer groups, user groups, business coaches, in-house technology platforms, media, podcasts, analysts, and events. Understanding what partners read, where they go, and, especially, who they follow is the formula for successful channel recruitment, communications, and loyalty building.
Communities offer a smaller group of like-minded people (perhaps even competitors) who share similar experiences and challenges, have the ability to collaborate, and help improve decision-making. The feeling of belonging is strong, as well as the affinity of membership. There is a feeling that communities are more democratic, as they are built by the membership, and participation is encouraged and celebrated.
Understanding influence across this massive ecosystem is important for vendors. Many partners rank visibility and community involvement highest of their criteria for vendor partnership — even higher than product, pricing, programs, or margin potential.
During this time of growing electronic ubiquity, the need for trusted and expert sources of information has increased significantly. In fact, the pandemic increased the use of social media by 490 million users (or 13.2%) in 2020. The amount of competitive choices for products and services, combined with vast information on the internet and endless buzz through social media, has created a scenario where cutting through the white noise has become one of the most important skills of channel professionals.
The social groups below have a combined 1,513,888 accounts registered by channel professionals. This obviously has hundreds of thousands of duplicates among groups and platforms, but the large numbers speak for themselves. Most communities utilize different social media tools to drive conversations, engagement, and platforms for distribution of ideas.
It is estimated that 90% of internet users participate (and get influenced by) social media in one way or another.
Many vendors view social media as an advertising platform — to the tune of $49 billion in 2021. Channel professionals should view it differently: as a way to engage with partners at a grassroots level and build personal and professional relationships in between face-to-face events. The pandemic drove this point home, and several events-centric companies struggled to adapt.
Channel-related social media groups have very effective personal spam filters. Anything that doesn't add value to the community will be rejected and have a negative result for the vendor/person behind it. Selling to a community will be ignored and likely get you kicked out.
Beyond the human requirements of personal interaction and belonging, social groups provide tangible benefits to all involved. Unfiltered information based on common experience will always trump random white papers and case studies posted on the internet. The give/get relationships within these groups inspire openness and, in most of the communities I have seen, a level of bluntness that is refreshing.
Now, let's dig into the details:
Facebook
We all know that Facebook is the largest social media platform (by far) and continues to grow its 2.74 billion monthly users. The stickiness factor is off the charts, as 1.82 billion of those users log in every day.
I conducted some simple (nonscientific) research across the 48 owners of channel-related Facebook groups, and 31 of them took my quick survey. My hypothesis was that Facebook Groups were quickly replacing LinkedIn Groups as the primary gathering spot for tens of thousands of partners.
This was supported by 77.4% of group leaders who were satisfied or very satisfied with their engagement on the platform. In addition, 87.1% are investing the same or more focus as compared to a few years ago, with an impressive 35.5% of them investing "significantly" more.
The results were not as positive when asked whether Facebook was doing enough to build features and promote the groups to the broader audience. In fact, 71% of respondents were neutral to negative on whether Facebook was doing enough.
Some owners commented that the search engine was too weak and that too much tech shaming is being allowed (moderation issues), while others worried about upcoming advertising and monetization strategies and a general distrust that Facebook Groups would be around for the long term (i.e., living on rented land).
Here are the top 48 groups based on membership size (not engagement):
FACEBOOK GROUPS
| # | Group Name | Admin | Members | Description |
| --- | --- | --- | --- | --- |
| 1 | IT & MSP Business Owners Group | Chris Wiser | 11300 | Chris Wiser's Exclusive Group for IT & MSP Business Owners!!! This group was designed as a support community for those people working to improve their IT & Managed Service Provider businesses. We feature discussions to help your business and to help you grow. |
| 2 | IT/MSP Entrepeneurs | Stetson Blake | 7700 | This is a place for current and new business owners in the IT and MSP industry to share resources and advice, and to ask questions related to business, marketing, and sales. No question is stupid—this is a group about learning and growing both ourselves and our businesses. |
| 3 | IT Business Owners Group | Scott Sanders | 4200 | https://www.itbog.org -The IT Business Owners Group offers a member directory, Google map, vendor discount guide and educational resources on our website |
| 4 | Everything MSP Group | Dan Tomaszewski | 3300 | Everything MSP, the online community for MSPs, launched at Autotask Community Live in September 2017. We are happy to add this Facebook Group for our community. Outside of general conversation, the goal of this new group is to focus on specific topics that can help MSPs. |
| 5 | Tech World's Half | Rokeya Jones | 2800 | This is a private group to collaborate on encouraging and keeping half of the total workforce – women – in the Technology Industry! Yes, things will be tough but with each other by our sides, we can tackle any and all obstacles. #WeAreRemarkable #HappyInTech |
| 6 | SyncroMSP Users Group | Shawn Scott | 2500 | SyncroMSP User Group for users of the SyncroMSP Solution to share tips, tricks, how to's and Best Practices. Share discussions and advocate for new features. |
| 7 | All Things MSP | Eric Anthony | 2500 | This group is for MSPs, IT companies and vendors who want to join conversations about managed services. |
| 8 | CharTec® MSP Group | Alex Rogers | 2000 | The goal of this group is to provide a space where MSPs & IT companies can openly discuss all industry-relevant issues including product reviews, struggles and successes, trends…ect. |
| 9 | IT Owner's Compass | Lori Tisinai | 2000 | I.T. Owner's Compass – Get help navigating your IT business. We're a community that encourages others to move forward on their goals, business and personal! This space was created as a safe place to share thoughts, exchange and explore ideas for those who own or manage IT |
| 10 | Connectwise Tips & Tricks | Jonathan Bullock | 1800 | This group is for MSPs and is run by MSPs. We are not affiliated with Connectwise. We exist to provide community support to Connectwise users due to a lack of support from the developer. |
| 11 | IT/MSP Buy-Sell Goods & Services | Lori Tisinai | 1700 | Do you have equipment you want to sell or cannot use? Do you need a part? Do you have a service that is IT/MSP related, as of now, services are free to post. I know we don't really need another IT/MSP group, but we can BUY/SELL or give a way. |
| 12 | CompTIA's Advancing Women in Tech Interest Group | Kathleen Martin | 1400 | AWIT works to: • Empower women with resources and information to positively impact their technology careers • Inspire women to choose careers in technology • Help technology businesses create cultures that support a diverse workforce |
| 13 | Tech Marketing Group – Tips for MSP & IT Service Businesses | Matthew Rodela | 1400 | A place to share marketing tips and tricks for growing your IT business. |
| 14 | ConnectWise Boss | Adam Bielanski | 1300 | We're obsessed with ConnectWise. For the latest info on new software releases, security features, and much more for streamlining your business processes and profits in 2019 and beyond… JOIN THIS GROUP to discover what's POSSIBLE with ConnectWise! |
| 15 | MSP marketing | Paul Green | 1300 | A group for MSP owners & managers around the world to discuss marketing ideas. Strictly for MSPs only. This is a vendor-free zone |
| 16 | MSPeers – MSP/IT Peer Group | Alex Payne | 1200 | This group is for like minded people to assist one another by networking with their peers, for getting help with projects, meeting others within the IT/MSP industry. Play nice, we only want to support one another in here. |
| 17 | DattoCon | Rob Rae | 1200 | Welcome to the DattoCon conference group where you can network and communicate with other attendees, speakers, sponsors, and Datto staff! Feel free to post questions you may have about the event or industry. |
| 18 | Ransomware and Security | Amy Babinchak | 1200 | We're here to share information about fighting ransomware and staying on top of general security issues. Focus is on small and medium businesses |
| 19 | Modern MSP | Amy Luby | 1200 | Founded 2004 as MSP Revolution & SMBManaged Services yahoo group, moderated by Amy Luby. The way to sustainable, profitable growth is through a Managed Services business model. |
| 20 | Ulistic Insiders | Stuart Crawford | 1100 | This group is an open discussion about the IT industry for friends, clients, partners and anyone who wants to share tips, tricks and strategies for effectively marketing and sales operations for their IT business. |
| 21 | MSP BUSINESS OWNERS | Jimmy Kno | 1100 | If you own an MSP and want to chat with other MSP Owners then this is the group for you. Technical and Business discussions welcome. |
| 22 | You know you grew up with SBS if… | Harry Brelsford | 899 | This group is dedicated to those of us that grew up as SBSers in the 1990s, 2000s and now the 2011+"teens" with Microsoft Windows Small Business Server (SBS). Share your triva, fun facts, success stories, lessons learned and everything that made this time special. |
| 23 | Australian IT Industry Group – Sysadmin, MSP & Break/Fix | Stephen De Tomasi | 862 | Live in Aus and work in IT? You're in the right place. Australian Sysadmins, MSPs, Break/Fix Techs and Vendors are welcome here. Share your knowledge and connect with others here. |
| 24 | MSP Unleashed | Shawn Sexton | 821 | This group was created so that IT/MSP business owners can collaborate on ideas, sales/marketing tactics, tech help, and much more! Please keep everything civil. |
| 25 | MSP Sales Revolution – Mastering Cybersecurity Sales With Jennifer Bleam | Jennifer Bleam | 729 | THE cybersecurity group for IT companies who want to add significant profit to their company by selling cybersecurity to their clients (and prospects,) learn from a close community of fellow IT business owners, and share wins (and losses) |
| 26 | Datto's MSP Forum | Rob Rae | 685 | Welcome to Datto's MSP Forum a group dedicated to facilitating dialogues that fuel MSP growth! Here you'll find a group, not filled with vendors or promotions, but instead filled with MSPs and valuable peer-to-peer conversations on a variety of topics |
| 27 | MSP Business Owners | Mike Slodowski | 684 | MSP Business Owners discussing issues around the industry and what tools and processes are available. This group is going to focus on companies that MANAGE the IT infrastructure of their clients. |
| 28 | N-Able (SolarWinds) MSP Open Discussion Users Group | Robert Kircher | 655 | The purpose of this group is to provide those of us who use N-Able MSP products and services a place to discuss business practices in relation to how we use these and other products in our day to day operations. |
| 29 | IT & MSP – Talk and Discussion – Business Owners – No Sponsors | Lisa Hendrickson | 620 | This is for the IT & MSP owners and senior staff to discuss issues and problems in the community. It will not be sponsored, commercial talks, pushing product etc will not be tolerated here. |
| 30 | MSP Regulation and Legislation | Amy Babinchak | 612 | Why we started this group. For many years there has been occasional talk about licensing IT professionals. Some were for it to raise the bar to entry; other against because of the fluidity of technology. |
| 31 | Women of The Channel | Christina Crow | 528 | A place where Women of The Channel can share stories, inspire others and celebrate achievements. This group will also feature great content from The Channel Company's Women of The Channel events, including but not limited to keynote speeches, presentations, videos and more. |
| 32 | CMMC,NIST, all things Compliance – Serving MSP/MSSP Community | Tim Golden | 490 | Cybersecurity | Risk & Compliance The Compliancy Guys /________/ Weekly chats at 3pm EST on Thursday /________/ The Compliancy Guys is a consulting company focusing on the business compliance. Join here: https://thecompliancyguys.com/ |
| 33 | The MSP Corner | Fernando Leon | 469 | The MSP Corner |
| 34 | MSP Mentor Community Group (Powered by Channel Futures) | Allison Francis | 434 | Closed discussion forum for members of the MSP Mentor Community Group only. |
| 35 | MSP Covid Help | Lori Tisinai | 324 | One place to keep posting about what you are doing, what you see other doings and resources. Please offer help and resources. |
| 36 | CompTIA's Emerging Tech Community | Kelly Stone | 322 | This community seeks to continually identify emerging technologies that can help transform business operations, create business opportunities, overcome challenges, leverage new routes to market and pave the road for the future business of technology. |
| 37 | SMB Professionals I.T. Group | Chris Bangs | 322 | SMB IT professionals are faced with new challenges like never before, including new commoditizing innovations, aggressive competition from outside verticals entering the channel, emerging technologies, and more. |
| 38 | Sophos MSP Connect Flex | Scott Barlow | 288 | Sophos MSPs utilize a vast portfolio of industry leading solutions that secure clients against modern cyber threats. Designed as a complete system that is synchronized to predict and adapt to attacks using artificial intelligence and easily managed from a single cloud based platform. |
| 39 | IT & MSP Rockstars | Scott Beck | 270 | An exclusive group for IT & MSP Business professionals wanting to build their personal brand, become the local expert and grow their organizations profitably! A community filled with tips, tricks, motivation and support that will help you grow into the rock-star MSP that you already are!! |
| 40 | MSP/IT Professionals Water Cooler Chat | Tim Golden | 223 | A place for MSP/IT pros to have some brain relief and fun! |
| 41 | IT & MSP Business Growth Group | Ian Lane | 213 | THE IT & MSP Business Growth Group Hi and welcome, This group is for IT and MSP Business Owners wanting to grow a more productive, profitable and engaged Business, including specifically how to really nurture the best from your Team and Clients. |
| 42 | The MSP Initiative | George Bardissi | 204 | https://mspinitiative.com/ MSP Initiative was started by independent individuals and companies from around the IT & Managed Services landscape who wanted to come together and help build a new voice in the community. |
| 43 | MSP Voice Community | John Smith | 199 | This is the community group for IT business owners and managed service providers (MSPs) to share ideas and thoughts on the industry. Feel free to share industry information and your own thoughts on the business. Sponsored by MSP360: https://www.msp360.com/ |
| 44 | The MSP Marketing Lab | Scott Millar | 160 | Do you run an MSP? Want to know what marketing is working and generating leads We test marketing campaigns and share the results in this group. |
| 45 | Canadian MSP and IT Pros | Steve Dion | 137 | A place for Canadian MSP's and members of the IT channel to gather, share and support. |
| 46 | MSPTag MSP Trusted Advisor Group | Paul Daigle | 119 | MSP Trusted Advisor Group – Strategy, Execution and Accountability. Tap into a pedigree of MSP executives and professional services. A community that provides MSP professional services and walk you through the multiple levels of growth. |
| 47 | MSPGeek | Martyn T. Keigher | 106 | MSPGeek is a community that focuses on all aspects of MSP related discussion. Previously LabTechGeek, we also happen to be the largest ConnectWise community in the world. |
| 48 | MSP (IT Managed Service Provider) Processes Creation and Automation | Daniel Wang | 100 | This group is focused on defining the processes for the MSP business and using automation to help execute those processes faster, more accurate, and cheaper. |
LinkedIn
From a business audience and demographic perspective, LinkedIn should far and away be the leader in social groups. With 740 million people using the platform, the early lead it built around social communities and groups has quickly become a ghost town in many cases.
I also conducted some simple (nonscientific) research across the 81 owners of channel-related LinkedIn Groups, and 37 of them took my quick survey. My hypothesis was that LinkedIn Groups were losing their luster for engagement, and many groups have devolved into one-sided vendor spam engines. I don't think LinkedIn (now Microsoft) ever found a way to monetize the engagement and has lost its early-mover advantage to Facebook Groups and others listed below.
A surprising 51.4% of group leaders had a negative perception of engagement inside their communities. In addition, 40.5% are investing less time and energy as compared to a few years ago, with a concerning 27.0% considering shuttering their groups on the platform.
The results got worse from there. When asked whether LinkedIn was doing enough to build features and promote the groups to the broader audience, 91.9% responded from only a moderate amount to none at all.
When asked where their user base was going, the majority responded over to Facebook Groups. Surprisingly, Twitter came in second, which really doesn't have the community engagement tools that these platforms do. Other mentions included private web forums, Reddit, Slack, Microsoft Teams, WhatsApp, and even Clubhouse.
Some owners commented that the platform needed a better design and UI face-lift; the ability to direct-message all group members (no longer supported); better activity-based notifications; cutting out spam, noise, and clutter; better segmentation of content; and better tools to grow and recruit new members to a group.
Here are the top 81 groups based on membership size (not engagement):
LINKEDIN GROUPS
| # | Group Name | Admin | Members | Description |
| --- | --- | --- | --- | --- |
| 1 | Telecoms Professionals: IoT, LTE, M2M, OTT, Internet of Things, Mobile, Telecom | Ian Johnson | 747940 | The group for Telecoms & Media to discuss: IoT, 5g, New Devices & Technology, Mobile, Billing, IPTV, Cloud Computing, LTE, WiMax, Connected TV, Edge Computing, Telecoms Marketing & Advertising, PR, Jobs, Events, Social media, VOIP, iPhone, Blackberry, Android, Symbian, 3G, wireless, SaaS, Broadband, OSS. |
| 2 | B2B Technology Marketing Community | Holger Schulze | 134703 | We are the #1 LinkedIn group exclusively focused on B2B tech marketing. This group is designed for marketing professionals to get the latest digital marketing news, enable networking, sharing of ideas, best practices and opportunities. |
| 3 | Channel, Sales & Account Management Experts (37,000+) | Ian Moyse | 44011 | A group for Channel Managers, Account Managers & Salespeople (in Resellers, VARs, Distribution & Vendors) to connect together and share experiences and best practice in sales & marketing. |
| 4 | The IT Sales Global Community | Lucas Stiefel | 43631 | The ITsales Global Community is exclusively for information technology sales professionals including, Account managers, Sales managers,Business managers,Channel managers and all sales executives around the world. |
| 5 | VARs / Resellers / Distributors | Brian Court | 43217 | VARs have plenty of challenges to be successful. Competing on price is to die a slow death – so how do we add value to customers, increase our margins, our footprint in a customer and ultimately increase our ability to succeed in an ever changing environment. |
| 6 | Alliances & Channels Friends (Strategic Alliance, Business Development, Partnership, Channel) | Serge Costa | 30667 | The founders of this group have extensive experience in leadership of strategic alliances and management of global partnerships and sales channels. The founders of this group have extensive experience in leadership of strategic alliances and management of global partnerships and sales channels. |
| 7 | CompTIA – The Computing Technology Industry Association | Kelly Stone | 24071 | CompTIA is a member-led organization comprised of thousands of tech-focused companies and professionals. We are the go-to resource for unbiased insight, guidance, and tools to help companies drive more effective outcomes with their customers. |
| 8 | AVIXA | Hanane Abdalla | 24054 | This is a group for AVIXA Members and other AV professionals to share their expertise through discussions and networking. Please refrain from posting messages related to promotion of company/product/services or messages containing job listings. |
| 9 | Channel Partners Network | Brittany Watts | 22614 | An online extension of the Channel Partners Conference & Expo, Channel Partners Evolution and Channel Evolution Europe, this group is dedicated to the indirect sales channel for communications products and digital services. Its charter is to provide an ongoing forum for indirect sales partners to network. |
| 10 | PartnerPoint – An Online Community of Microsoft Partners | Brian Ocheltree | 14888 | Formed in 2005, PartnerPoint is one of the largest & most active online communities of Microsoft Partners w/ over 50,000 members from around the globe. As one of the largest Microsoft Partner groups on LinkedIn, our community includes all partner types. |
| 11 | Association of Strategic Alliance Professionals Community | Kimberly Miller | 11673 | ASAP is the only nonprofit, professional community with members across the globe dedicated to alliance management who seek successful outcomes for strategic alliances, partnerships, ecosystems, and key channel partner relationships. |
| 12 | Managed Service Providers Network | Allen Mapalo | 10934 | Managed Service Providers are invited to discuss ideas about services, implementation & marketing. Groups focus is success in the IT MSP market. |
| 13 | MSP 501 | Allison Francis | 10819 | This discussion forum is a place where managed service providers, VARs, ITSPs, consultants, etc. can engage in productive discussion about industry issues. Follow our other social accounts for even more MSP news and talk! |
| 14 | The Reseller Network | Grant Ward | 9966 | The Reseller Networks' primary objective is to connect companies to help establish reseller, affiliate, distributor, retail and partner relationships to help grow businesses effectively and cost effectively nationally and internationally. |
| 15 | MSP – Managed Service Provider | Amir Quraishi | 9817 | This Group is for Individuals or Companies who are an MSP – Managed Service Provider. |
| 16 | IT Channel Alliance | Tiffani Bova | 8740 | This group is focused on the IT go-to market sales strategies focused on channel programs and enablement tools for VARs, System Integrators, Solution Providers, ISV, Managed Service Providers and Direct marketers. Identifying trends and current state insights will be the goal of this group via Q&A. |
| 17 | Alliance Best Practice | Mike Nevin | 7037 | A group dedicated to exploring best practice principles in business to business relationships. Particularly and specifically strategic alliance relationships. Typical key search words: partner, partnering, alliance, alliances, alliance best practice, best practice, alliance execution, collaboration. |
| 18 | Alliance Management and Business Development Network | Jim MacNeil | 6637 | The Alliance Management and Business Development Network provides a forum for an open exchange of ideas specific to the principles behind managing alliances. |
| 19 | ChannelWeb Network | Jennifer Follett | 6244 | A group for IT channel executives, VAR, systems integrator and solution provider executives and employees to find each other and share ideas about business and technologies that advance the agenda of the IT channel. |
| 20 | Managed Service Provider (MSP) Best Practices | Steve Simmons | 6077 | If you want to share ideas on how to successfully build and grow a Managed Services company, then this is the place for you. Meet other IT professionals and leaders involved with Managed Service Providers (MSPs) or IT Services delivery. Network and trade best practices for marketing, sales, pricing, and upselling. |
| 21 | Move the Channel – Marketing, Sales, Planning & Enablement | Travis Smith | 5865 | Move-the-Channel is the go-to resource for Channel Marketers, Channel Sales Leaders, Channel Enablement & Ops, and Channel Chiefs interested in what is working to drive profitable revenue growth. This one-of-a-kind LinkedIn private group provides channel executive members with access to industry executives. |
| 22 | Business Development & Strategic Alliances / IT & Telecom | Serge Costa | 5609 | Group for professionals involved in Channels & Alliances / IT & Telecom. Affiliate Agreement Alliances Channel Development Channel Partnership Channel Sales Channel Distribution Sales & Channel Management Indirect Channel eCommerce and Distribution OEM Planning Partnership Programs Channel Strategy. |
| 23 | Channel Executive Magazine | John Oncea | 5559 | The Business Solutions Network's vision is to facilitate connections and foster collaborations throughout the IT channel and software community. VAR Insights (VARrinsights.com) feeds fresh business-enabling content to VARs in the IT channel on a daily basis through multimedia delivery of newsletters. |
| 24 | CRN UK – technology channel professionals | Sara Yirrell | 5440 | This LinkedIn group provides a networking opportunity for business people working in the UK technology distribution channel. It is run by CRN, Incisive Media's publication for VARs, integrators and converged resellers. CRN is the UK's leading business publication for the technology channel. |
| 25 | Technology Services Professionals – Collaboration & Networking – TSIA | Emily Murray | 5379 | This group strives to be the preeminent source of online networking, best practices and peer-to-peer collaboration for technology services professionals. Brought to you by Technology Services Industry Association (TSIA). |
| 26 | Channel Futures | Jessie Truscio | 4787 | Leading Channel Partners Forward – Facebook: https://www.facebook.com/ChannelFutures/ Twitter: @ChannelFutures |
| 27 | ITdistri worldwide IT Distribution Specialists | Alain Godet | 4701 | ITdistri group aims to help vendors exchange on their experience on IT distribution in the whole world. Resellers are also welcome, to discuss about their distributors in any country. |
| 28 | Channel Live Discussion Group | Miles Bossom | 4490 | The Channel Live Discussion Group provides a forum for professionals working within the Voice, Data, IT and Mobile trade Channels to share ideas, interact and discuss topics of current interest. |
| 29 | PMAP – Partner Manager Alliance Program | Taylor Moran | 4321 | The Partner Manager Alliance Program group has been created to promote discussion and cooperation among channel professionals working in channel management/sales roles within IT and Telecommunications vendors. |
| 30 | Channel Sales for Hire North America | Lynn Bryant | 3869 | Are you a North American channel sales person looking for a career opportunity? Are you a company or recruiter looking for a strong channel sales specialist? Look no further than Channel Sales for Hire. North America only please. |
| 31 | The Channel Institute: Training for Channel Managers, Channel Marketing, Channel Sales | Mike Kelly | 3627 | The Channel Institute is an ISO certified training body that sets the global standard for training in channel management and channel marketing. Our courses are reviewed by the Industry Advisory Council, comprised of channel thought leaders at leading technology companies. |
| 32 | CompTIA Advancing Women In Technology Community | Kelly Stone | 3222 | The Advancing Women in Technology Interest Group is dedicated to empowering women with resources and information to positively impact their technology careers, inspiring women to choose careers in technology, and guiding technology businesses to create cultures that support a diverse workforce. |
| 33 | Telecom Channel Partners | Frank Wilkens | 2882 | Designed for Var's, Vendors Agents and Dealers to meet with carriers and offer solutions throughout the world. |
| 34 | Channel Rewards & Incentives Best Practices | Andrea Benavides | 2714 | Our group's network shares best practices around indirect channel incentive and loyalty rewards programs. Top-performing rewards and incentive programs share certain characteristics in the realm of channel relationships that contribute to their success. |
| 35 | Alliance of Channel Women | Khali Henderson | 2621 | Founded in 2010, the Alliance of Channel Women is a not-for-profit organization of women in the indirect sales channel of the telecom and IT industry. The Alliance of Channel Women brings us together to empower and advance women's careers and leadership roles in the technology channel. |
| 36 | VAR Marketing | Jim Larkin | 2542 | Focused on IT channel marketing, channel sales, MDF management, social media, building pipeline and co-marketing best practices. Specific topics include; cloud marketing, SMB selling, lead generation, lead nurturing, marketing trends, and vertical marketing. |
| 37 | Dutch IT Channel Club | Witold Kepinski | 2171 | Welcome to the Dutchitchannel.nl Club at LinkedIn: a Dutch & worldwide networking group for all people who work in the IT-channel: vendors, distributors, resellers, system integrators and consultants. Dutchitchannel.nl Club enables participants in the Dutch IT business to exchange knowledge |
| 38 | Channel Focus | Caleb Brown | 2136 | The Channel Community is for channel sales and marketing executives in software, hardware and the telecoms industry responsible for aspects of channel marketing and sales, channel development, marketing communications and business strategy. |
| 39 | Indian IT Channel Alliance | Alok Gupta | 2134 | This group is for Indian Information Technology Channel and is focused on the IT go-to market sales strategies focused on channel programs and enablement tools for VARs, System Integrators, Solution Providers, ISV, Managed Service Providers and Direct marketers. |
| 40 | ChannelCrowd | Alan Paterson | 1915 | ChannelCrowd , is aimed specifically at Sales, Marketing and Supply-Chain professionals and other executives who have a shared interest in Channel Management. |
| 41 | MSPAlliance Group | Charles Weaver | 1885 | This group is for all existing or prospective members of the MSPAlliance. If you're not a member of the MSPAlliance, join today for free and join over 25,000 MSPs & cloud providers world-wide! |
| 42 | Australian IT Channel | Mark Winter | 1874 | VARs have plenty of challenges to be successful. Competing on price is to die a slow death – so how do we add value to customers, increase our margins, our footprint in a customer and ultimately increase our ability to succeed in an ever changing environment. |
| 43 | The Channel Company | Lindsay Sawyer | 1817 | The Channel Company is the premier provider of IT channel-focused events, media, research, consulting, and sales and marketing services. |
| 44 | Alliances & Channels Friends / USA | Serge Costa | 1703 | OEM Partners Distribution Project funding capital equipment, knowledge expertise intellectual property Cooperation Collaboration Synergy technology transfer knowledge expertise specialization, shared expenses shared risk. Alliance Partner Channel Resellers Indirect Collaboration Distributor |
| 45 | MSP University | Erick Simpson | 1640 | MSP University (http://www.mspu.us) provides education, training, fulfillment and consulting services to Membership Organizations, Vendor Channels, Franchises and independent IT Service Organizations worldwide. We are the ultimate vendor-neutral resource for all IT Service Providers |
| 46 | Channel Insider | Howard Cohen | 1481 | The Premier News Resource for the Channel Community – Channel Insider is dedicated to the providing IT resellers and partner community with the technology and market intelligence to increase revenues and grow their businesses. Channel Insider addresses the $450 billion marketplace |
| 47 | Taking your partner channel from good to great | Lori Stutsman | 1374 | If you run a partner program within a technology company, this group is for you. Get tips on how to help your partner team maximize your channel's sales and marketing efforts and how to influence business decision makers with powerful content that tells a unique and memorable story. |
| 48 | IT Channel Newspaper & community | Vikas Gupta | 1341 | Our vision is to provide detailed information of IT & telecom and make it easy to reach the customers needs through IT Voice. It is as simple as looking at the whole world with a bird's eye view. |
| 49 | Channel Marketer | Sherri Butts | 1274 | Channel Marketer Report (CMR) is a targeted e-media publication covering the the latest solutions, trends, news and strategies to help vendors optimize their marketing both to and through their partner networks. The publication will only help point to solutions and processes that can help track results |
| 50 | Channel Gurus Europe | Greg Taylor | 1270 | A place for senior level channel sales and marketing executives from the software, hardware and telco industry to share best practices and strategies |
| 51 | MicroScope Channel Network | Alex Scroxton | 1261 | MicroScope is the longest running channel publication in the UK and has built a reputation for delivering hard hitting news and definitive analysis of the IT supply chain in the UK. No rumours, no speculation, just the facts. |
| 52 | Microsoft Partner Group from Redmond Channel Partner Magazine (RCPmag.com) | Donovin Matthews | 1197 | Breaking news, features and commentary about the Microsoft channel designed to help readers navigate the unique technical, business and even political issues that come from being a Microsoft partner. |
| 53 | CompTIA UK Channel Community | Estelle Johannes | 1150 | The CompTIA UK Business Technology Community centers around the Business of Technology by helping members build and expand their businesses and careers.Together, we explore business opportunities and challenges and put a focus on the UK region as a world leader in technology innovation. |
| 54 | Channel Update – An agent community for positive change | Rob Camargo | 833 | Official Group for channelupdate.com we provide user generated news content and an open forum for Telecom Agents involved in the indirect channel. We've made a place where agents in the industry can come and discuss topics relevant to them and share ideas on how to make their needs available |
| 55 | B2B & Channel Marketing Insight Community | Jon Clarke | 744 | A networking community for anyone with an interest in the latest trends and insights in B2B and channel marketing. Join our community if you want to share ideas and news on: customer insight; buying journeys; behavioural economics; social selling; and inbound marketing. |
| 56 | Alliance For Channel Success | Jeff Hilton | 737 | IT Businesses and Channel Program Owners can join the Alliance For Channel Success and use its programs to help grow and develop increased business success. The purpose of this group is to foster discussion between leading channel program owners, partners and channel development professionals. |
| 57 | Beyond channel enablement … motivation | Tony Serino | 729 | Motivation trumps enablement. Perhaps it's personal, but the term "Enablement" as used in "enabling the channel" grates on me. First, because it presumptuous and even condescending … and second, because it sets the performance bar too low to make a difference. |
| 58 | Partner Relationship Management Tools & Best Practice | Chris Marshall | 717 | PRM and other partner management tool selection and usage best practice. |
| 59 | EMEA Channel Vendors / Distributors / VARs / Resellers | Brian Holohan | 655 | Welcome to EMEA Channel Vendors / Distributors / VARs / Resellers. Join the group if you are involved in the industry. Feel free to promote your company, but please keep this in the "Promotion" section, the "Discussions" section is restricted for conversations on industry news / trends / strategies. |
| 60 | MSP/ VAR Marketing & Operations Group | Paul Barnett | 591 | My name is Paul Barnett and I am the Marketing Director for Virtual Administrator (VA for short). During my time at VA, I have worked with hundreds of small VARs and MSPs from all over the country. |
| 61 | IT Channel Partners | Elias Ndreu | 591 | IT Channel industry is a group that connects IT channel professionals. You can share anything important (news, updates etc) about the IT channel industry and how to improve your network |
| 62 | Frankly IT Community | Steve Petryschuk | 553 | Welcome to the Frankly IT Community LinkedIn group! We're excited you've joined the community. You'll find conversations and resources meant to help you: • Building & managing a high-performing IT team • Ways to optimize your service desk or help desk • Best practices for IT project management |
| 63 | Channel Marketing and Communications | Gennifer Biggs | 538 | Successful marketing and clear, concise communications are an ongoing struggle for many in the IT channel. As channel comms specialists, we're trying to share on insight and best practices. |
| 64 | Channel Sales & Marketing Jobs UK, Ireland and Europe | Zoe Chatley | 501 | This group has been set up for all Technology channel sales and marketing professionals who are looking to make their next move. Whether you just want to see what the market is like or you are seriously looking for your next challenge, this group will give you access to the latest jobs in the channel. |
| 65 | Channel Partner Alliance, Formerly VARCoach | Julian Lee | 495 | As we continue our mission to help Resellers, VARs, MSPs, ITSPs, MSSPs and ISVs to become bigger, better, stronger and smarter through better business practices, we have expanded beyond providing Coaching services. We offer best business practice assessments; Peer-group collaboration |
| 66 | VAR Marketing Tips and Tactics | Mark Badran | 478 | This group is dedicated to helping Sage, Microsoft, Acumatica and other software resellers discuss and discover marketing tip and tools available to technology VARs. You'll learn useful marketing tips that will help you climb the ranks on Google, leverage social media, discover effective inbound strategies. |
| 67 | Global Channel Network | Joe Kiddle | 472 | News and discussion from across the U.S, U.K and EMEA IT channel, including breaking stories, exclusive research and industry events. |
| 68 | CompTIA ANZ Channel Community | Moheb Moses | 458 | This community seeks to be the voice of the entire ANZ business technology community, for small-, medium- and enterprise-focused businesses. As part of a nonprofit, vendor-neutral industry association, this CompTIA community offers a unique voice in the industry where all can participate |
| 69 | ChannelTune | Laurent Glaenzer | 433 | Channel Tune is a community of international business executives involved in channel management. We share practices, trends, visions…to reach new business through our channel. This group is moderated by: Lemon Operations |
| 70 | Mid-Market Channel Professionals | Heather K. Margolis | 433 | We've started this group for mid-market channel professionals to share ideas, questions and resources with each other while building channel programs, communications to channel partners and resources to market through channel partners. |
| 71 | Global Channel Management | Johnny Walker | 406 | Global Channel Management is a group created to share best practices and industry knowledge with seasoned channel sales and marketing professionals. Our group aims to uncover all relevant aspects of Channel Investments including Product Realization, Product Development, Channel Programs. |
| 72 | Global IT Community Association (GITCA) | Felipe Zuñiga | 395 | Representing over 800 member organizations and over 3.7 million IT professionals, GITCA is the world's largest international not-for-profit independent organization powered by dedicated volunteers devoted to the development and growth of the IT community by providing services to support leaders |
| 73 | Strategic Alliances & Partner EcoSystem | Sridhar Throvagunta | 379 | Strategic Alliances WhatsApp group is a self-managing team of alliance professionals coming together to enhance their knowledge and careers. The twin dimensions of the charter are as follows: 1. Business & Technology Discussions 2. Professional networking for mutual advancement |
| 74 | CompTIA Emerging Technology Community | Kelly Stone | 374 | As a group of emerging technology thought leaders, this community will seek to continually identify emerging technologies that can help transform business operations, create business opportunities, overcome challenges, leverage new routes to market and pave the road for the future business of technology. |
| 75 | Channel & Reseller Certification Forum | Gordon L. Johnson | 372 | Come chat with other channel chiefs and certification professionals about reseller certification programs and solving the challenges of increasing your reseller engagement and performance. Discuss what makes world-class certification programs; tips, technologies and incentive programs that drive certification |
| 76 | The Channel Meet-Up | Emily Cotton | 372 | B-to-B-to-B has unique challenges. Channel partners are under pressure to keep up with the new era of marketing, as traditional sales and marketing approaches are no longer helping customers make informed buying decisions. |
| 77 | Channel Partner Strategies | Jordan Linford | 321 | If you are in channels sales or marketing then this group is for you. It is made to share best practices, tips and advice for improving and optimizing the indirect channel. |
| 78 | IT Channel Insight | Gilly Zammit | 250 | IT Channel Insight is a one-stop source of information for IT resellers, managed service providers and channel partners.The idea of this group is to discuss major concerns and problems that MSPs and channel partners are encountering in their business. Please feel free to share your ideas. |
| 79 | Middle East Forum for Channel Partners | Angelina Jardin | 242 | This group is poised to provide partners with a wealth of information and educations, giving us a platform to discuss new tools that help us realize ICT's full potential to transform our customers' businesses. |
| 80 | PRM ~ Partner Relationship Management | Eric Herschkorn | 185 | BtoB Partners Relationship remote . Social selling i(ex "Business Social Networking") nteraction with the evolution and convergence trade of commercial. We use this business model to redefine a new one for B2B. PRM is the group of the think tank "Des idées pour Innover". |
| 81 | Marketing Multiplied – Channel Marketing Community | Mike Moore | 130 | A group for communication and collaboration among Channel professionals around the book Marketing Multiplied: A Real-World Guide to Channel Marketing for Beginners, Practitioners, and Executives. The book will be available in early 2018. www.marketingmultiplied-book.com. |
Reddit
According to the company's figures at the end of 2020, there are 52 million daily active Reddit users worldwide. This marks a 44% year-over-year increase from the previous year. In mid-2018, we took a closer look at Reddit when it became the number one platform for channel partner professionals.
If LinkedIn Groups are turning into ghost towns, Reddit may be the closest thing to the Wild West in the channel. The degree of anonymity is scary for many entering for the first time, and the content can be unfiltered, uncensored, blunt, and littered with expletives.
The content quality is surprisingly good with its user-generated voting system, and spam will be voted down or out quickly. Moderators also have strong tools to keep things moving. The demographics of the broader technology channel, of which 87% are male and 74% under the age of 50, lends itself to Reddit's appeal.
The main /msp channel has 112,000 users, with 84,000 of them active in any given month. Along with Discord (below), it has engagement rates that are off the charts.
Clubhouse
Clubhouse is the newcomer to the social media scene and, while still in invite mode and only recently releasing an Android version, has 10 million weekly active users, up from 600,000 in December 2020. The app is starting to gain traction outside of North America and is currently the number-one most-downloaded app in Germany, Japan, Slovakia, and Turkey.
The channel-related pickup has been a bit more subdued, but the audio-only real-time format may support a subset of partners who prefer to consume information in a conversational format. It has been a home to many entrepreneurs in the startup world, and I think that can translate into partners who are also looking for collaboration beyond just commenting on posts and scrolling.
Here are the top seven groups based on membership size (not engagement):
CLUBHOUSE ROOMS
| | Group Name | Admin | Members | Description |
| --- | --- | --- | --- | --- |
| | Tech Partnership Alliance | Bader Hamdan | 3000 | Ecosystem Partnerships – Alliances – Channels. Empowering Your Go-To-Market Journey. Wondering how a partnership works, align with ☁️ cloud, launch a SaaS marketplace offer, integrate ISV tech stack, or drive joint GTM with partners?… |
| | MSP/MSSP NSIT/CMMC/SOC | Tim Golden | 313 | A place for Managed Service Providers MSP and managed security services providers MSSP can chat about tools, tech, tips and more |
| | Channel Growth Hacking | Michelle Ragusa-McBain | 169 | Join the Technology Channel Ecosystem's key #Influencers #ChannelChiefs and #ThoughtLeaders for #ChannelGrowthHacks that take you from incremental to break through growth. Also a gathering place for advocacy for #WomenInTech and #Diversity… |
| | Modern MSP | Amy Luby | 116 | w/ Amy Luby, Scott Sanders, Gjeret Stein, Bagaudin Satuev — Calling all MSP business owners! Join your peers each week in a casual conversation around building a profitable IT services business. Bring your successes, challenges, frustrations & ideas to share with your peers. |
| | IT Business Owners Group | Scott Sanders | 99 | Discuss topics relating to owning an IT service business with an emphasis on managed services. |
| | ICE MIGHTY NETWORK CLUB | Nadio Granata | 70 | The place to discuss the role of the Channel Partner and Alliance professional. Topics include but are not limited to: SaaS/Leadership/Sales/Marketing/Best Practice/Technology/Inclusivity/Diversity/Workplace/Age of Human |
| | Partnership Leaders | Asher Mathew | 35 | Partnership Leaders is the community focused on business development, alliances, channel and partnerships executives and professionals at modern technology companies. Join us at —> www.partnershipleaders.com |
Slack
The number of people using Slack daily exceeds 10 million. It also has wide exposure across many types of partners, from the very small to the very large. In fact, 43% of Fortune 100 businesses pay to use Slack. The average user is logged in for 9 hours a day, which makes it comparable to email in many partners' toolkits.
The engagement is also very high in mostly technology-related conversations, as well as best-practice and coaching-style groups. The content can be highly segmented, and the permissions that admins get are among the best of any social platform.
The other thing that differentiates Slack is the infinite amount of integrations with other software platforms — including with many vendors and distributors themselves.
Here are the top four groups based on membership size (not engagement):
SLACK CHANNELS
| | Group Name | Admin | Members | Description |
| --- | --- | --- | --- | --- |
| | MSPGeek Slack | Martyn T. Keigher | 6833 | MSPGeek was founded in 2013, as 'LabTechGeek', by Martyn T. Keigher & Greg Buerk. Their goal was to build a platform to provide ConnectWise Automate (formerly LabTech) administrators the ability to communicate and collaborate on common challenges, issues and ideas. |
| | Cloud Software Association | Sunir Shah | 2702 | Over 4,000 of the cloud software industry's partnership leaders have joined the Cloud Software Association for a good reason. It's a lot easier to make relationships, close deals and learn from peers inside the network. |
| | IT Pool Party | Chris Burns | 1918 | Today, it's a slack community of MSP owners that share ideas, services, and more with other MSPs around the world. Our slack group was created by Chris & Paul, who both own MSPs in South Florida. |
Discord
Discord is an online social community platform, initially created as space for gamers to communicate with one another. While gamers retain a strong presence on Discord, the platform now has a significantly wider appeal, with 140 million monthly active users — including a growing base of channel partner professionals.
Over 13.5 million "servers" or topics are visible on Discord, with millions of them active every week, spanning almost every field imaginable. Much like the demographics mentioned above for Reddit, Discord serves a younger, more technology-enabled partner base. The average user spends only 5 hours a month on the platform, but I see this growing substantially as the engagement starts to replicate Reddit.
A couple of servers gaining momentum in the channel are MSPs Я Us and OITVOIP. They are approaching 3,000 users who are very active and engaged.
Other Social Platforms
Twitter has 353 million users or, as Twitter reports, 192 million "monetizable daily active users." Twitter's user growth in 2020 was originally forecast at about 2.8%, but the pandemic pushed that up to 7.9%. It tends to be a huge megaphone, with celebrity users driving most of the engagement. I have seen very little evidence that vendors, distributors, or partners themselves are running successful communities on the platform.
Instagram has 1.2 billion monthly users, with 43% growth in site traffic year over year (driving around 5.3 billion visits per month). A Facebook-owned property, vendors have dabbled with visual "branding"-type accounts, but I have seen very little commenting or active engagement.
YouTube has 2 billion monthly active users and is the second-most-visited website by traffic after Google Search. From a community perspective, it is home to many video warehouses as well as podcasts and vodcasts but has very little useful "group" functionality.
Tiktok was the number-one most-downloaded app in 2020 and has 689 million active users. Like other consumer-driven platforms here, there is no channel-related activity.
Snapchat has 498 million people using the platform, with 265 million active every day. Again, like other consumer-driven platforms here, there is no channel-related activity.
Pinterest has 459 million active monthly users, with a 37% increase from last year. During the pandemic, it added 100 million, but it is mostly consumer-driven, and no meaningful channel-related business is conducted on the platform.
Other Private Forums
I also watch closely the growth of nonconsumer platforms that serve the broader channel. From private newsgroups run by associations such as ASCII to technology tools with integrated social tools such as Spiceworks to growing forums based on focused subjects such as Technibble, there are hundreds of other places that drive community involvement and rich partner engagement.
Because these are "closed" environments, it is difficult for many vendors to enter, participate, and build community engagement.
Know of a great channel or partnership social group that I missed? Let me know, and I'll add it to the list.
Further Channel-Related Reading
What I See Coming For The Channel: 2021
Channel Software Tech Stack 2021
How Did I Score On My Channel Outlook For 2020?
Channel Marketers Need To Become Community Marketers — Here's How
Are Distributors The Future Of Distribution?
The 100 Best Channel Podcasts Of 2021
Marketplaces Make Their Mark In The Channel
The Decade Of The Channel Ecosystem Accelerates With Massive Software Consolidation
Through-Channel Marketing Represents The Third Stage For Sales And Marketing Leaders
Channel Data Is A Competitive Differentiator
Measure What Matters: Unlocking The Power Of Partner Ecosystems Demands Powerful Measurement
Time To Rethink Channel Incentives And Program Management (CIPM)?
Channel Automation Becomes Table Stakes For Partnership Success
Can You Deliver A Great Partner Experience Without Great Onboarding?
Do Channel Vendors Need Public Relations Anymore?
Channel Reimagines Physical Events, Looking To Reopen Slowly