Are Virtual Events The Right Move For You?
It's a rough time to be planning or managing a large, in-person event.
The COVID-19 virus has made canceling or delaying customer gatherings, seminars, conferences, and trade shows of any size essential. Digital alternatives don't replicate the in-person experience, despite innovative technologies and approaches. Marketers and sellers rely on events to support campaigns that generate demand (subscription required) or move prospective deals forward, and buyers value event content and experiences (subscription required).
But what do you do when meeting face to face simply is not an option?
Event marketers from firms such as Adobe, Akamai, Domo, and even Forrester are turning to digital delivery — particularly for large conferences and summits. In addition to the ideas, advice, and examples our SiriusDecisions colleagues have shared, Nick Barber and I have teamed up in this post to help marketers decide whether it's worth turning a physical conference into an online experience. You should address these four considerations before deciding.
One: How Will You Manage Your Audience's Expectations?
Setting aside financial and logistical issues for a minute (and there are plenty of them!), marketing leaders must determine whether they can create a memorable experience in an online setting that will meet/exceed your attendees' expectations for the value they would have received in person. As you weigh the pros and cons of moving a physical event virtual:
1) Be honest about what attendees really value from your events. Can you make your online version exclusive and special, not just a virtual version delivered to salvage sunk costs? Do you have the time, resources, and commitment to deliver a digital event worthy of their time, attention, or money? Don't think that you can lift your in-person event content and shift it to a standard slides-and-audio presentation. Delivering an online event is not inexpensive in time and money; successful ones require creativity. Expect to incur additional costs in the form of outsourcing content work, procuring tech, and completing the work upfront to pivot from physical to virtual.
2) Pare your online version back to the essentials. Consider that your attendees will be spending half a day with you instead of a full eight hours (because customers will attend a three-day conference but won't sit in front of their computers for the same length of time). Can you offer your "standard" content via on-demand delivery so that attendees can consume it at their leisure and save your juiciest content for the live event? Can your speakers deliver great value but in 15- or 20-minute sessions rather than 30 or 45 minutes? The answers to these questions will help you determine if virtual is the right choice and which content maps best to online delivery.
3) Deliver unexpected and exciting experiences. Customers and prospects attend events because they expect to see or learn something new, meet an interesting exhibitor or partner, or run into someone they haven't seen in a while. Sponsors also value the demand gen opportunities that the exhibit hall and audience engagement offer, and many of these moments happen outside keynote or track content delivery. How important is it that your virtual edition enable these same community experiences? How can you creatively bring something unexpected into the digital world? Answers to these questions will help you determine which capabilities or features to use to enhance the virtual experience.
Two: Are You Going To Switch To A Virtual Event Or Take Your Event Online?
Attendees, speakers, exhibitors, and your staff have already set aside this time to attend — so marketers who want to maintain the momentum and anticipation around an event must decide whether to duplicate it online or use other means to deliver content and experiences in ways that don't look and feel like a digital-only version of a physical gathering (subscription required.)
Virtual event (VE) platforms meet the replication requirement, but considerable costs, risks, and learning curves can accompany this shift. VE technology works well if you have a clear business reason — such as a product launch, considerable sponsor revenue losses, certification deadlines mandated by law, or the draw of a difficult-to-book speaker — to maintain the original date or provide a facsimile of the experience. But a virtual events platform isn't right for every event. You might be able to use a livestreaming video platform (subscription required) or even a videoconferencing platform for smaller and less complex events. This chart can help you choose among alternative methods to take a physical event digital: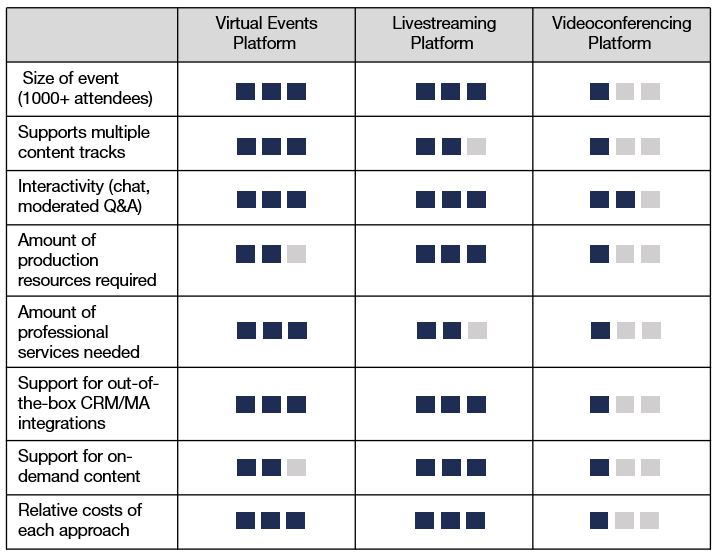 Three: How Will You Keep Attendees' Attention Online?
Going online means cutting back on planned content and building an agenda that helps attendees stay engaged. Great content is essential — but so is audience involvement. Virtual events have strongly embraced interactivity capabilities in areas where many in-person events are still dabbling. Top online experiences incorporate gamification, recognition, raffles, and rewards to keep their attention from waning. Team with direct mail and sending platforms such as Alyce, PFL, and Sendoso to reimagine ways to deliver promotional giveaways (with special considerations for capturing addresses, privacy, and timing) while reinforcing event themes, highlighting key sessions, or continuing to educate and engage remote participants during the event.
Not everything needs to be interactive to have impact. For example, you could broadcast your general session with your CEO or celebrity keynote speaker through a video platform. During a large in-person event, attendees wouldn't expect to ask a question, and this expectation would carry over online. With online broadcasts, we're hoping to see more innovative approaches and fewer talking heads. Perhaps companies can experiment with something like a talk show format on a set with guests.
Four: How Will You Dial Up Their Engagement Before And After The Event?
Going virtual means increasing the amount of pre- and post-event communication that marketers must have with attendees to get them comfortable with the change and ensure that they remain committed. Use notices about speakers, social media sharing, and "what to expect" to communicate how the virtual experience will work and preview some of the mechanisms (such as polls or community features). Literally show attendees what value they can expect from engaging with the virtual experience and content instead of blowing the event off because it won't be in person.
Virtual events have one distinct advantage: All content must be produced in a digital format to deliver it online. This makes it easier and faster to reuse and repurpose content for post-show marketing. Use your virtual event content to show those who did not attend what they missed — and to build interest in your next event. For marketing teams that have yet to increase event payoff through digitization, moving a key event online will instill new practices and processes that make any event the centerpiece of ongoing customer interactions and not just a point-in-time occurrence.
How Will This Crisis Shape Event Marketing In The Future?
We think there's a silver lining here: The COVID-19 pandemic is forcing companies to react today to try to maintain a sense of normalcy and to recover when marketers can't hold an event in person. While today is reactive, we think companies will use this crisis to take a serious look at their long-term plans as they relate to many areas, events included.
In-person event popularity will rebound once we are past the current crisis. We believe people will always value physical, face-to-face experiences, so marketing events won't disappear anytime soon. However, those marketers who employ digital approaches to personalize every attendee's experience will earn a better return from their events.
Categories