What To Expect On Singles' Day 2019
This blog post is part of Forrester's Holiday 2019 retail series.
11.11 (AKA Singles' Day), the world's largest online shopping event, is entering a new decade this year. Every year since 2013, event founder Alibaba has generated more online gross merchandise value (GMV) than all US retailers put together have generated on Black Friday and Cyber Monday combined.
In 2018, Alibaba generated a staggering $30.8 billion in GMV on 11.11, a 27% increase over 2017; the event is gathering momentum beyond Alibaba and outside of China, especially in Southeast Asia. Major eCommerce players including Alibaba, JD.com, Lazada, and Shopee are all pumped up for the event. Overall, Forrester forecasts that Alibaba will generate $37 billion in GMV for 11.11 in 2019 — 20.5% more than last year — including $1.5 billion to $1.8 billion in online sales to 50 million online buyers in Southeast Asia.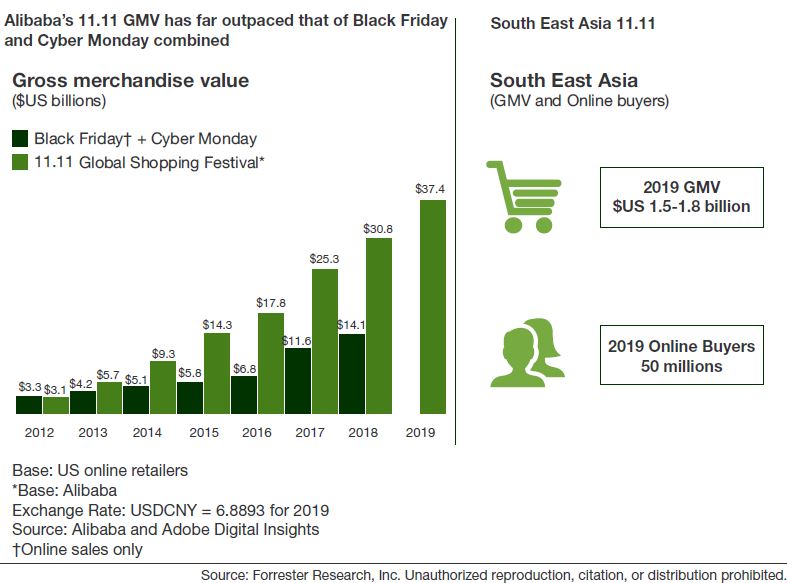 While eye-popping GMV numbers have become routine, we expect 11.11 to become grander than ever in terms of scale, reach, innovation, and social responsibility. Specifically:
Bigger discounts and more complex promotions. Major players all rolled out preorder campaigns with various dates. Alibaba kicked off on October 21. JD.com set its preorder period from October 18 to 31. Shopee started on October 24. Promotion schemes have become more varied and complex. Flash sales, preorder exclusive offerings, cashback, free shipping, and paying in installments are common tactics. Alibaba's Tmall and Taobao have launched the most sophisticated promotion schemes, including playing in-app games to earn virtual coins to win red packets and inviting friends to participate to increase the chance of success. Consumers fall into a dilemma between deals that are too good to resist and promotions that are too numerous — and too complex — to follow.
Alibaba will continue to push the boundaries of what to buy online. Last year, Alibaba expanded its 11.11 product portfolio to new industries like automotive and hotels. This year, Alibaba is expanding into a wide range of new areas, from entertainment to offline services to real estate. This 11.11, consumers in China can buy tickets to Disney parks, car care services, home decoration, and renovation services online. What's more, Alibaba plans to sell 10,000 apartments on its auction platform.
Live-streaming commerce will be the key driver of revenue growth. Live-streaming commerce is increasingly gaining momentum in China and quickly expanding to Southeast Asia and beyond. Lazada, Shopee, and Rakuten all launched live-streaming features. Beauty brand Whoo has already established a jaw-dropping record of RMB 100 million ($14 million) in GMV in 6 minutes of live streaming during the preorder campaign period. In another live-streaming session, Chinese automobile brand JMC sold 55 cars in just 1 second. We expect to see more record-breaking live-streaming sales like this emerge on 11.11 this year.
Leading retailers and brands will differentiate with social responsibility. Alibaba announced its plan for "a greener 11.11," committing to set up 40,000 recycling stations across China via its Cainiao Smart Logistics Network and a further 35,000 by its express-courier partners. It also encourages consumers to participate by rewarding them with "green energy" points on Ant Forest. Although it's not exactly for Singles' Day, Singapore-based online retailer Carousell recently launched a "reboxing" campaign with the similar idea of reducing waste. We expect to see more retailers and brands participate and initiate social responsibility campaigns like this.
I will continue to follow the event closely. Stay tuned for my post-event updates.