Why Every Organization Needs a B2B Content Audit
Most B2B organizations have no idea how much content they have, how high-quality it is, where it lives or how it supports business objectives
A content audit and inventory is the first step to successfully improving content strategy and operations
A content audit is a laborious yet critical quantitative and qualitative exercise that requires dedicated resources, executive championship and cross-functional support
The sad reality: Only 35 percent of the content created by a B2B organization is actively used. The reason that the other 65 percent goes unused generally boils down to two things: it's unfindable (hard to find, unknown to users) and unusable (irrelevant, low quality).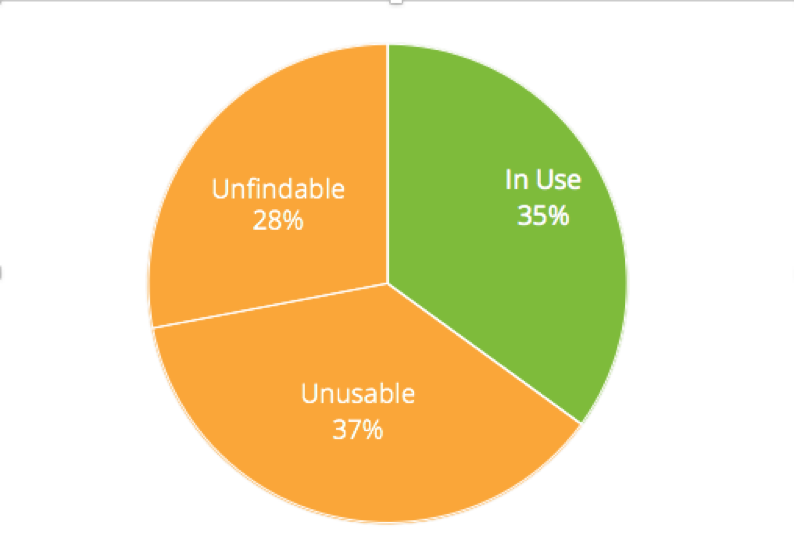 When it comes to content, more isn't necessarily better. B2B organizations must address their content inventory and content siloes to improve content effectiveness, efficiency and reuse. The first step to getting your content house in order and solving these challenges is to conduct a content inventory and audit.
Every B2B organization needs to perform a content inventory and audit. If this has not occurred within your organization or it hasn't happened in a long time, it should be a top priority. The B2B content audit is often the best catalyst for tangibly demonstrating where there are issues with audience-centricity, content strategy, content quality, content quantity, content findability and all the other content issues that plague so many B2B organizations.
I've done many content audits over the years, and they really can be a bear. But you know how the saying goes: No pain, no gain. Thankfully, there are tools, templates and frameworks that can help you guide you through the process of implementing this type of initiative.
At SiriusDecisions, we use a specific content audit methodology to educate and empower clients to take on the necessary, yet often avoided, task of taking stock of the organization's content. Our seven-step approach helps you inventory and analyze the content assets, systems and processes that exist within your content ecosystem and to identify the gaps and problems.
I can't emphasize enough the importance of conducting a B2B content audit to fix content problems within the B2B organization and working toward best-practice content strategy and operations. But realistic expectations and company support are critical to success. Typically, everyone thinks it's a great idea, but no one wants to do it, and no one wants to own it. Often, whoever is responsible for the content audit doesn't get the cross-functional support necessary to make sense of content repositories, or understand the owners and intended audiences of specific assets and identify at what stage they should be applied to the buyer's journey.
Executive teams and supporting stakeholders need to understand that a content audit and inventory helps everyone in the organization in a multitude of ways. It helps marketing build smarter programs and nurture streams, helps sales reps more easily find the content they need, helps Web site teams build better information architectures and so much more. Unfortunately, this value cannot be realized until the content audit is done. It is critical to the success of the content audit that dedicated resources, executive championship and cross-functional support are in place, or the audit will never cross the finish line.
To learn more about conducting a B2B content audit and how to use the SiriusDecisions Content Audit Methodology to support your efforts, check out our recent on-demand webcast: What Works: Conducting a B2B Content Audit. In the 30-minute webcast, I walk through our seven-step content audit methodology and provide actionable and practical advice you can use to realistically scope and execute a content audit that will help you get your content organized.
Join us at on Wednesday, May 25, at Summit 2016 for a presentation on "Solving the Content ROI Conundrum."