You Need A Design System — Here's Why
A recent study on design maturity from InVision revealed something really interesting: that design team size is not predictive of a design team's maturity. That is, it's possible to dedicate a lot of headcount to design but still see limited benefits on business outcomes. Not only did they find there's not a correlation, but they also found the average size of the highest-maturity teams — what they call Level 5 — is half that of Level 1 maturity teams.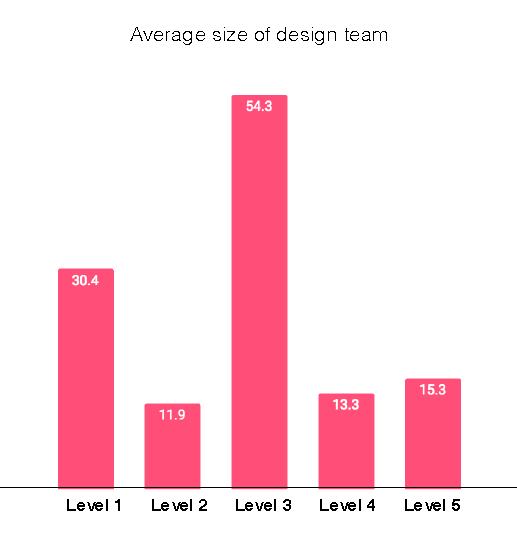 So if unlocking the business benefits of design doesn't come with investing in more headcount, what is the key to amplifying design's impact?
I've found in my research on "How To Scale Your Design Organization" that the best organizations focus on five things. One of these practices was highlighted in our recent "Digital CX Trends, 2019" report: It's the practice of establishing standards and processes that allow designers to do their best work. Why? To focus the team's time on solving uniquely differentiating design challenges instead of getting sucked in to reinventing the wheel by expending effort on design decisions (like how to align labels and fields on a form) that someone else at your firm has already figured out. A mature organization does this by creating a living, breathing design system.
Design systems were a hot topic at this year's recent San Francisco Design Week. I attended Adobe's "Designing at Scale: Industry Leaders at the Forefront of Design Systems" panel event, where design systems teams (yes, that's a thing) from Adobe, Gap Inc., Salesforce, and Twitch shared their stories of building, maintaining, and evangelizing their design systems.
If you're not familiar with the concept of a design system, it's in some ways the next, better iteration of the style guides and internal design pattern libraries of times past. But it's so much more than that. A design system is also the principles, templates, components, and best practices that guide an organization's design efforts in crucial ways. Design systems, when done well, also include the reusable code behind those design elements, and for this reason they should be created as a partnership between design and development teams.
Over the last year, we've seen a significant increase in companies adopting design systems. Sixty-eight percent of companies tell us they use design system,s and I project that number is going to continue to increase in 2019 for three reasons:
First, design systems help democratize design practice. Experience design (XD) teams can add lots of value to the business through design work that goes beyond efforts like designing buttons or form layouts. But they often lack the bandwidth to do so, so it's good for the business if designers can make these tasks more efficient by democratizing the work they require. Design systems help teams do this by providing a set of user-experience-"blessed" components that developers and product managers can pull from when doing basic updates. This eliminates the need for XD pros to create yet another wireframe, freeing up that time for higher-impact work. As a member of Twitch's design systems team said at SF Design Week, "The system [addresses] 80% of what design and development need so they can focus on the other 20%."
Second, design systems help power accessibility efforts. More firms are recognizing what Forrester calls "The Billion-Customer Opportunity: Digital Accessibility," and companies can use design systems to help achieve their accessibility goals. How? By making sure all design elements and code in the system adhere to the Web Content Accessibility Guidelines, it's less likely that accessibility issues will creep into the organization's digital experiences. At SF Design Week, Adobe, Salesforce, and Twitch all emphasized that accessibility was a key consideration from day one when standing up their design systems.
Third, design systems help indirectly improve talent retention. Ask any designer what they like least about their job, and you're likely to hear things such as "I hate solving the same problem over and over again — like how to lay out a form." Designers leave companies where they're creating wireframes for the same design problem again and again to go where the work is more challenging and exciting. And exciting work means solving complex challenges that someone hasn't already figured out — like reimagining an entire customer journey or designing an innovative new feature that fulfills an unmet customer need. Design systems document design decisions that are already made and can be applied again and again across products so that designers are not caught in this cycle of working on the same problems again and again.
Managing a design system certainly comes with challenges, though.
One is resistance from designers who assume the system strips away creativity, not understanding that in fact a design system frees up their time to channel that creativity to new, higher-level challenges.
Another is the feeling that "I'm stealing another designer's work" by using documented components from the system vs. creating them from scratch. To overcome this challenge, ensure all designers have opportunities to contribute to the system, creating a sense of shared ownership. The design systems team at Twitch refers to themselves as "the janitors for the system" to emphasize that the designers own it — the systems team is just there to clean things up.
For example, if a designer creates a component and doesn't specify breakpoints or include appropriate accessibility elements, the design system team fills in these gaps so that the component will be more effective when others reuse it. The design system manager at Gap also emphasized shared ownership, stating that trust in the system is the foundation of adoption and that trust comes from engaging stakeholders in the creation of components to ensure they'll work for different products and, in the case of Gap, for all of its five brands.
Have you successfully put a design system in place? If you have and you'd be willing to share your story, please reach out to me! And if you're just getting started and need some guidance on where to begin, feel free to set up an inquiry with me.
Categories