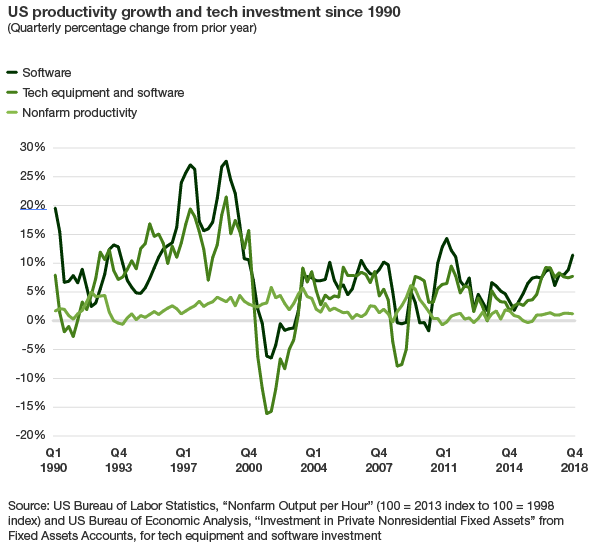 Improving productivity has traditionally been a key justification for technology investments. However, trends in overall US productivity indicate that increases in tech spending no longer raise overall US productivity as much as in the past. Given that US firms have theoretically been investing heavily in digital transformation, the failure of overall US productivity to grow impugns the notion that tech investments will continue to deliver productivity gains at the macro level — and potentially at individual firms. Thus, CIOs should rethink how to reposition their value proposition for tech spending away from improved productivity.
Forrester's report, "The Shrinking Productivity Gains From Technology Investments," explains why US productivity growth has stagnated across virtually all industries despite increases in tech spending. While individual tech investments can still be justified on productivity gains, the report recommends that CIOs start building their business cases for tech spending on effectiveness gains (the increased probability of good business outcomes and the reduced probability of bad business outcomes). To elucidate this point, the report examines the following key observations:
Since 2010, US productivity growth has plateaued at roughly 1%.
During this time, tech investment growth averaged 5%.
The correlation between tech investment and increasing productivity has deteriorated, suggesting the need for alternative tech spending justifications.
Our analysis reveals that at the industry level, the relationship between tech investment growth and productivity has been negative since 2012.
CIOs who continue to justify tech investments largely on increased productivity risk jeopardizing their own credibility.
For more information and recommendations, check out the report or schedule an inquiry.