You aim to justify greater CX investment while demonstrating the value and influence of CX initiatives. It takes continuous effort to master the discipline of customer experience and earn the devoted loyalty of your customers. Forrester helps you face the day-to-day challenges you must overcome to achieve success for your organization, including:
Making the case for an established CX function.
Operationalizing CX across the organization.
Linking CX to ROI and business goals.
Connecting employee and customer experience.
Embedding customer data through businesswide operations.
Hear Forrester Analyst David Truog share best-practice tips on how to design and continuously improve experiences that increase customer loyalty.
How Forrester Helps You Drive Business Results
Forrester empowers customer experience leaders to mature their organization and fuel predictable business growth with experiences intentionally created to drive loyalty across customers' most meaningful touchpoints.
Bold Solutions Built For You
Gain access to research, expertise, and guidance from Forrester so that you can anticipate what's ahead and shorten the distance between bold vision and superior impact.
Customer Experience Leaders
Blog
"When you look forward two years and think about your aspirations for your consumer digital experiences, what will inhibit you from reaching those goals?" Dozens of digital business and experience executives across numerous industries and geographies shared their thoughts with us about digital experience's current state, emerging tech, priorities, and inhibitors. I've summarized the findings […]
Read More
Blog
Apple kicked off its annual developer conference on Monday, June 7, 2021. One of its big announcements was iOS 15. iOS 15 makes experiences more intelligent and more intuitive. Apple is adding features that help its customers 100 times a day in little moments throughout the day, every day. In some ways, you could say […]
Read More
Blog
Amid massive market volatility and uncertainty, two investment firms were able to vault up the rankings in the Forrester US CX Index 2021. Discover how, and why they'll have a competitive advantage going forward.
Read More
Meet A Few Of Our CX Analysts
Capture The ROI Of CX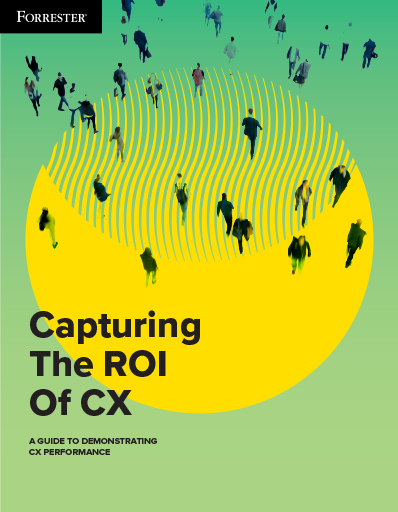 Download our complimentary guide, "Capturing The ROI Of CX," to get clear instructions on how to build a CX business case and measure financial results.
Thank you!
PDF and XLS are a zipped file.