Countdown To Showdown: Domino's Supreme Error And Why Businesses Should Do The Opposite
When you hear "Domino's" and "supreme" in the same sentence, you could be forgiven for thinking we're talking about the "Supreme" on its menu — a pizza loaded with pepperoni, bacon, beef, sausage, mushroom, pineapple, and onion.
But no, I'm talking about a bad business decision — which any company with a website or app should learn about and learn from: Domino's is petitioning the US Supreme Court to shut down a lawsuit a customer filed when the pizza maker's website prevented him from ordering because he is blind.
Here's a recap of what happened:
The customer's attempt: A man named Guillermo Robles tried to order a pizza online from Domino's. Robles is blind, so to use computers, he relies on a screen reader — a type of app that uses text-to-speech technology to translate websites and other content into audible speech or Braille.
The double-fail: Domino's website is incompatible with screen readers — so Robles failed to get a pizza and Domino's failed to get his money.
The company's hostile response: Instead of fixing its website after Robles filed the lawsuit based on the Americans with Disabilities Act (ADA), Domino's chose to fight back. And it has now sent the US Supreme Court an extra-large petition to quash the case, topped with lots of unfounded claims. (Did Domino's deliver it in under 30 minutes? We're not sure about that part.)
How this will hurt Domino's: The company will miss out on opportunities to boost revenues, to improve all customers' experiences, and to more successfully attract and retain talent. I'll get to why a little later, but first . . .
Why This Is A Big Deal For Every Company
Every company with a website or app should pay close attention to this case because:
The frequency of these legal wrangles is picking up. How common are these fights? There's one new website or app accessibility lawsuit every working hour.
It's happening in every industry. These lawsuits are most common in retail, food service, travel and hospitality, banking and financial services, and entertainment, but no industry is spared — and a whopping 48% of the top 500 retailers have been sued based on the ADA. There are even some celebrities in the mix: Beyoncé is in this spotlight because her beyonce.com website is not accessible to the visually impaired, which has resulted in a proposed class action lawsuit.
Here's an example of a common scenario:
Tax preparation firm H&R Block was sued by the National Federation of the Blind (NFB) and several blind people that the firm's website shut out.
The US Department of Justice intervened and ultimately entered into a consent decree with H&R Block that required the firm to make its mobile apps and websites accessible prior to the next tax season, pay $100,000 in damages, appoint a web accessibility coordinator, adopt a web accessibility policy, and train employees who build its digital experiences in how to design and code accessible products.
Most such cases settle requiring similar actions and also require that the firm hire an outside consultant to regularly audit its digital experiences for compliance to ensure that the company doesn't become a repeat offender.
Why The Supreme Court Is Now Involved
Most companies faced with these ADA-based lawsuits opt to settle and make their websites accessible. But not Domino's:
In January, the Ninth Circuit Court of Appeals found that Title III of the ADA and California's Unruh Civil Rights Act (UCRA) applies to Domino's websites and mobile apps and reversed the decision of a lower court that had originally tossed the Domino's case out of court.
The case went back to the lower court to decide whether the Domino's website provides effective communication and access to its products.
But before the lower court took the case back on, Domino's submitted a petition asking the Supreme Court to review the decision.
Domino's Is Wrong, And Its Shareholders Should Be Mad
To be fair to Domino's, let's review the key claims in the Domino's petition. I'll point out why they're misguided:
It's Not Clear What Accessibility Means? Wrong
The Claim
Unless this Court steps in now, defendants must retool their websites to comply with Title III without any guidance on what accessibility in the online environment means for individuals with the variety of disabilities covered by the ADA.
The Truth
The guidance is strong and clear — the Web Content Accessibility Guidelines (WCAG) standard:
Describes exactly how to meet each guideline.
Is the ISO-recognized standard that accessibility case settlements have enforced time and time again.
The Department of Justice has made it clear that the ADA requires digital accessibility through its findings in these cases and the settlement agreements that result, time and time again.
Why is this standard for digital accessibility not explicitly included in the ADA? Because:
The ADA was written into law in 1990 — when the web was still a nascent network for scientists and most consumers' lives were mostly pre-digital.
The standard was created in 2008 as digital experiences proliferated. People who are visually impaired, for example, often find it difficult or impossible to complete common tasks like making online purchases because most businesses still don't follow the established accessibility guidelines to make their digital experiences work for people who use assistive technologies like screen readers. And that's why many people with disabilities have taken legal action against businesses under Title III of the ADA, in the form of either lawsuits or demand letters.
Accessibility Requires Retaining Outside Consultants? Wrong
The Claim
Achieving online accessibility involves creating "alternative text" descriptions for every image and incorporating other features into websites and apps. Those upgrades often require retaining outside consultants to create and maintain websites.
The Truth
Sure, it can help for companies to partner with an accessibility consultant when standing up an accessibility program. But smart firms make sure above all to contract with accessibility consultancies to train the firm's employees to do the work themselves.
The result: It becomes second nature for designers, developers, testers, and other employees creating digital products to remember key steps — like including an alt attribute in every image tag.
Ensuring Accessibility Is A Burden? Wrong Again
The Claim
These burdens encourage businesses and nonprofits to settle at an alarming rate — over 95 percent by one estimate.
The Truth
It's alarming only if you think it's bad that those 95% of companies will make more money after they fix the problems in their websites and apps.
Domino's Shareholders Will Lose If It Wins This Case
Anyone who owns stock in Domino's (NYSE: DPZ) should be alarmed. Domino's is burning money and time fighting this case instead of channeling its resources into seizing the benefits of making its website accessible — benefits Forrester described in The Billion-Customer Digital Accessibility Opportunity, in which we explain why companies that make the Domino's mistake will miss out on:
A massive revenue opportunity. There's $8 trillion in annual disposable income in the wallets of people with disabilities and their 2.4 billion friends and family who typically prefer to support businesses whose products are accessible.
Better digital experiences for all of its customers. Accessibility accommodations have a track record of helping everyone. This is called "the curb cut effect." Why? Because curb cuts, invented 70 years ago to help World War II veterans in wheelchairs, turned out to help moms pushing strollers, kids on bikes, and many others. They can also help the company directly: Websites that include alt text help their SEO, in addition to helping visually impaired customers.
More success at attracting and retaining talent. Companies Forrester has spoken with that prioritize accessibility find that their employees are more engaged in their work as a result — they value that their company is doing the morally right thing, and it makes them proud of where they work.
Countdown To Showdown
Right now, the Supreme Court is on summer recess, but:
Seize The Opportunity Of Digital Accessibility
Whether the Supreme Court takes on the case itself or lets stand the Ninth Circuit Court of Appeals' ruling that Title III of the ADA and California's Unruh Civil Rights Act do apply to websites and mobile apps, don't make the same mistakes as Domino's. If you're a Forrester client:
And consider partnering with one of the accessibility consultancies, such as Deque, The Paciello Group, or Level Access. (Forrester has no relationship with or vested interests in any of these firms.)
Is your company among the smart ones that have already prioritized digital accessibility? If so, please get in touch — I'd love to speak with you to learn more about the challenges you faced and how you overcame them!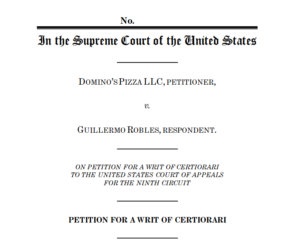 Related Forrester Content
Categories