Accelerating Out Of The Crisis
In the wake of profound disruption, the future came into focus. Changes long in the making for some firms were implemented overnight. Agility, creativity, and customer obsession showed the way forward. These principles will continue to guide companies as we enter the next normal.
2021 will mark a turning point. The business landscape has fundamentally shifted. Success will depend on firms' ability and willingness to harness disruption to drive meaningful change.
Read our 2021 predictions to learn how to meet the moment and forge a successful path in the year ahead.
Blog
It has never been more important for organizations to anticipate change, strengthen resilience, and become truly customer obsessed. Heading into 2021, technology — both new and existing — will help firms achieve these aims and emerge from the crisis on sound footing.
Read More
Predictions 2021: CX Leader Webinar
CX will be at the forefront of 2021's greatest challenges. Discover the keys to success.
Predictions 2021: EX Leader Webinar
A bold new path for EX was forged in the fires of 2020. Meet the workplace of the future.
Asia Pacific
Forrester VP, Research Director Ashutosh Sharma discusses 2021 Predictions for the Asia Pacific region.
Blog
Forrester analysts from across the Asia Pacific region provide insights on what to expect in the year 2021.
Read More
Research Reports
Predictions 2021 Research
Predictions 2021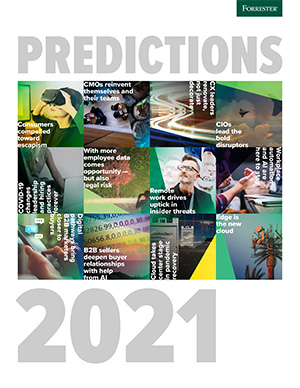 The business landscape has fundamentally shifted. Success in 2021 will depend on firms' willingness and ability to harness disruption and drive meaningful change. Read our Predictions Guide to learn how to meet the moment and thrive.
Thank you!