Developing a sound, long-term marketing strategy that aligns with corporate growth goals and translates them into actionable plans is no small feat — particularly in today's rapidly changing environment. We know you're facing many new dynamics and challenges while also being tasked with initiatives such as:
Transforming your marketing strategy
Aligning planning and investments to the business
Elevating the brand across the lifecycle
Designing campaigns that drive outcomes
Enhancing the B2B content engine
Communicating marketing's value
Running a high-performing marketing organization
How Forrester Helps B2B Marketing Leaders
Through straightforward research and hands-on partnership with seasoned analysts, Forrester helps B2B marketing leaders advance and motivate their teams to create customer-led, cutting-edge marketing strategies that lead to measurable impact on growth and retention.
Drive marketing, sales, and product alignment.
Shift your organization's focus toward a unified, audience-centric go-to-market strategy that delivers standout results.
Unite your team with a common language.
Adopt consistent frameworks, processes, and terminology across your team to communicate and advance your strategy.
Affirm marketing's strategic value.
Garner trust and respect for the marketing function by demonstrating clear value and impact on the business.
Leading-Edge Insights, Guidance, And Tools
Gain access to research, resources, and expertise that help you anticipate what's ahead, and make clearer, better-informed decisions.
SiriusDecisions
Marketing Executive Services Research
Explore frameworks, tools, and insights aligned with marketing executive priorities. Tackle challenges, and uncover opportunities with guidance and advice from former marketing practitioners.
B2B Marketing Certification

Align your team and validate their marketing expertise through our online microlearning program that blends SiriusDecisions research, analyst insights, and hands-on activities.

B2B Summits

Preview new best-practices research, discover the latest in marketing innovation, and network with peers at the premier annual gathering for B2B sales, marketing, and product leaders.

Business Technographics

Access survey-based data on B2B buyer behavior via a curated digital experience. Our analytics experts help you translate this data into meaningful insights on your buyer needs and behaviors​.
Research Spotlight
Design Campaigns That Drive Outcomes
Many B2B organizations invest time and resources in misaligned marketing tactics that fail to drive meaningful impact. Learn how the SiriusDecisions Campaign Framework brings order and efficiency to campaign planning and execution, enabling you to coordinate tactics and resources to attract and engage audiences throughout the buyer journey and customer lifecycle.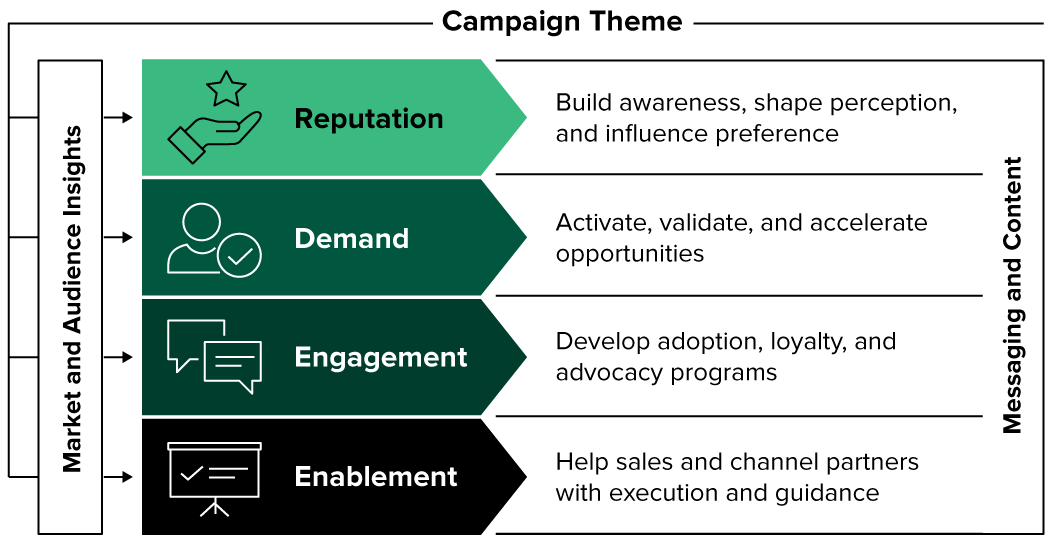 Blog
Storytelling is an essential skill that inherently engages audiences and makes content distinctive and memorable. Yet, B2B marketing professionals often struggle to create compelling stories.
Read More
Predictions 2021: Marketing Leader Webinar
The decisions marketing leaders make will be critical in shaping the course of their business. Learn how to meet the moment.
Blog
At a time when many firms are trying to regain their footing or set a new course, having a clear, comprehensive marketing strategy that supports the business's future vision is critical. Avoid these common missteps.
Read More
Blog
As forces converge to drive B2B marketing to a higher purpose, marketing leaders must evolve from brand stewards, lead generation machines, and sales supporters in order to fulfill it.
Read More
Meet Our B2B Marketing Analysts
Predictions 2021: Accelerating Out Of The Crisis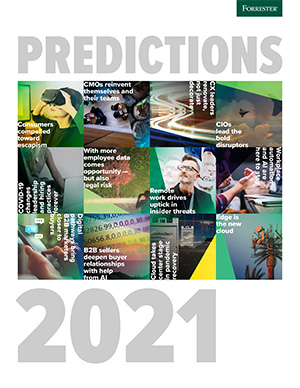 The business landscape has fundamentally shifted. Success in 2021 will depend on firms' willingness and ability to harness disruption and drive meaningful change. Read our Predictions Guide to learn how to meet the moment and thrive.
Thank you!