Developing a sound, long-term marketing strategy that aligns with corporate growth goals and translates them into actionable plans is no small feat — particularly in today's rapidly changing environment. We know you face many new dynamics, and we help you tackle challenges along the way, including:
Communicating value to executives and positioning marketing as a strategic partner.
Gaining alignment and cooperation across marketing, product, and sales.
Addressing brand awareness and perception issues.
Establishing greater resiliency and adaptability across the marketing organization.
Hear Forrester Analyst Craig Moore's best-practice tip for how to develop your annual marketing and investment plan.
How Forrester Helps You Drive Business Results
Forrester partners with B2B Marketing Executives to envision and execute a long-term marketing strategy that focuses the business on customer value and drives measurable impact on growth, retention, and advocacy.
Bold Solutions Built For You
Gain access to research, expertise, and guidance from Forrester so that you can anticipate what's ahead and shorten the distance between bold vision and superior impact.
Forrester Decisions for B2B Marketing Executives

This service was built for you. We provide tools and frameworks to help you tackle your priorities and offer hands-on guidance from our experts so you can apply research within your organization and accelerate impact. Learn more.

Consulting

Forrester Consulting gives you the flexibility to do the work yourself or request help from experts. Our options range from quick half-day workshop sessions that help your team jump-start its work with Forrester to fully customized long-term transformation initiatives. Learn more.

Events

Preview new research, discover the latest in marketing innovation, and network with peers at the premier annual gathering for B2B sales, marketing, and product leaders. See B2B Summit event dates for your region. Learn more.
Blog
To successfully scale the business for growth, revenue engine leaders at emerging-growth companies must share the same goals. Those goals must also align with the CEO's expectations, which change as the company moves through the early-growth, extended-growth, and prepare-for-exit stages. Nancy Maluso and I recently interviewed CEOs from emerging companies — which Forrester defines as […]
Read More
Trust Matters More Than Ever. Here's How To Strengthen It.
Organizations that earn and retain trust — of buyers, employees, and partners — will gain a clear competitive edge. Explore our resources to learn the most effective ways to strengthen trust in your brand.
Blog
Answers to a few common questions that we hear from clients around constructing financial models and common ways in how Forrester approaches modeling them.
Read More
Blog
It's impossible to know what the future holds for marketing campaigns in development. But you can audit your progress and course-correct when needed.
Read More
Meet Our B2B Marketing Analysts
Set Your Strategy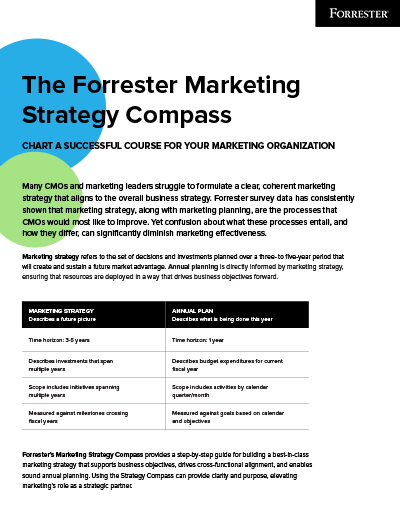 Many CMOs and marketing leaders struggle to formulate a clear, coherent marketing strategy that aligns to the overall business strategy. The Forrester Marketing Strategy Compass helps you create this strategy and cascade it throughout the marketing function.
Thank you!