Win With Superb Digital Experiences
Enhance The Business Value Of Digital.
Demonstrate measurable outcomes that align to topline business objectives.
Stay Ahead Of Disruption.
Align your strategy to emerging consumer behaviors and technology trends.
Establish A High-Performing Organization.
Strengthen team skills and capabilities and build a trusted partner network.
As a digital leader, you're on a mission to establish a commercial strategy and approach that aligns to your vision and differentiates your products, services, and experiences. Forrester Decisions for Digital Business & Strategy is tailored to help you succeed at your most pressing priorities:
Develop the digital strategy.
Grow the digital team.
Collect and analyze data for customer insights.
Power your business with technology platforms and strategies.
Design and develop digital products and experiences.
Measure the value of digital products and experiences.
Harness emerging technologies.
What's Included In This Service
Forrester Decisions services are uniquely built to give you strategic insights for your role as a business leader in your organization and help you deliver on your functional role as a division or department leader. Here's what's inside:
Stay ahead of changing customer and market dynamics, plan for the future, and set your strategy with leading research. ​
Customer obsession research
Customer insights
Trends and predictions
Market forecasts
Technology and service provider landscapes
Empower your team to conquer your priorities with proven strategic models and plug-and-play templates. ​
KPIs and peer benchmarks​
Assessments​
Strategic models​
Strategy templates​
Forrester Wave™ evaluations for your function
Certification courses
Accelerate progress and de-risk decisions with best practices tailored to you and your team​.
Guidance sessions​
Peer discussions
Event attendance​
Dedicated relationship management
What differentiates Forrester is its 'outside-in' perspective. Forrester's research begins and ends with the customer. Its marketing and strategy expertise is particularly valuable when designing customer-centric processes and systems that ensure long-term success.

—


Senior program manager, digital transformation office
Service Model Spotlight
The Forrester Digital Business & Strategy Engine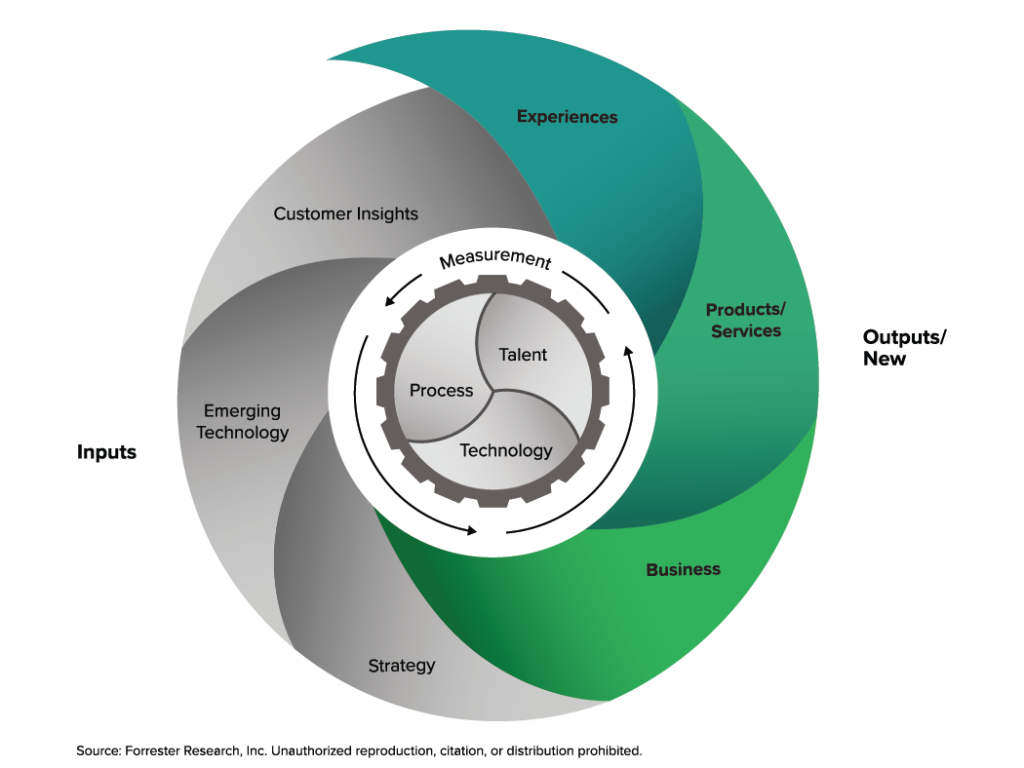 The Forrester Digital Business & Strategy Engine empowers digital leaders to create compelling and profitable products, services, and experiences.
Support For Leaders And Team Members
Forrester Decisions for Digital Business & Strategy offers multiple levels of service to ensure the right expertise and degree of support for you and your team. All service levels offer access to customer experience research, tools, data, and certification courses.
Leader 
Procure deep expertise across your functional discipline through expert-led guidance sessions that help you apply unique research, tools, and data to your specific needs.
Team 
Develop a common language and toolset to strengthen your team's expertise and skill sets with access to relevant certification courses and insights.
Meet A Few Of Our Digital Business & Strategy Analysts
Looking for more time with experts? 
Get in touch with our consultants to jump-start your initiative, execute on your transformational strategies, or anything in between.
How can we help?
Fill out the form, and we will contact you.
Thanks, we will be in touch soon. In the meantime please subscribe to our insights or give us a call:
+44 (0) 2073 237741 (Europe)
+1 615-395-3401 (United States)
+65 6426 7006 (Asia)